*Basics*

xName: Chloe
xAge: 18
xLocation: Australia

*Tastes*

xFave Bands: Blitzkid, Maniac Spider Trash, Alice Cooper, Frankenstein Drag Queens from Planet 13, Twisted Sister, Plan 9, Misfits [Glen Danzig era only], Zombina and the Skeletones, New York Dolls, The Graveyard Boulevard, The Adicts & a Hell of alot more.
xFave Songs: I honestly can't pick just one. But at the moment i love the songs 'Trash' by New York Dolls and 'She Dominates' by Blitzkid
xFave Flims (non-horror): Airheads, Mars Attacks, Scarface, Elvira's Haunted Hills (Not exactly a horror...), Kung Pow...
xFave T.V. Shows: Futurama, The Munsters, Grim Tales (with Rik Mayall), Gumby ...
xFave Actor/Actress: Yvonne De Carlo, Bela Lugosi, Vincent Price, Elsa Lanchester, Boris Karloff, Helena Bonham Carter
xFave Drink(Alcoholic or Non): Anything caffeinated

*Style*

xFave Clothing Brand: I don't have a favourite brand. I wear what i like.
xDrugs? Alcohol? Cigarettes?: Drugs, no. Alcohol, yes. Cigarettes, yes, too much.
xTattoos/Piercings/Various Mods?: 1, Labret. Tattoo coming in 4 days.
xSomething you wear everyday: Socks?
xSomething you wear for shows/pics/dates etc: Nothing in particular.
xBest item you've ever bought (clothes/accessories/shoes etc.): My Night of the Living Dead Hoddie. It's warm and awesome.
xPost a Picture of that one thing you are DYING to have and tell us why:

The Munster Koach. Who wouldn't love to get around in this crazy thing?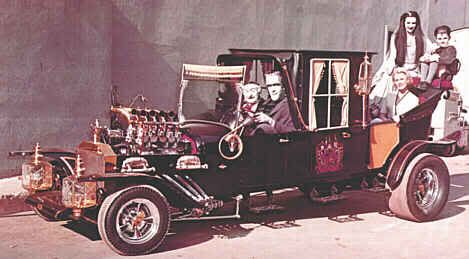 xWhat does your room look like? (Pics are good here!): I have just moved house, so at the moment it's a pile of boxes and a bed.

*Horror*

xFave Horror Movie and Why?: Just one? Well, my all time favourite would have to be The Bride of Frankenstein. It's more humourous than scary, and James Whale is a brilliant director.
xFave Horror Icon and Why?: Either Lily Munster or Vampira. They are beutiful and creepy. Gotta love that combination.
xLast Horror Movie You've Seen: The Amityville horror remake. I was extremely dissapointed.
xHorror Movie You Would Like To Remake Yourself: I honestly don't like remakes. You can't remake classic horror films. They never beat the originals.
xWhat Is The Main Thing You Would Improve On In This Film?: ---
xHorror Movie You Would Like To See As A Remake And By Whom If Possible: ---
xWhat makes you a ZomBie KiTTen or Kat?: Well, i'm not one yet. I'll leave that up to you!

*Legal*

xDid you read the rules? Yes i did.
xDo you own a webcam/digicam? Yes.
xAre you gonna post more pics? Definitely!
xYou gonna vote? For sure, If i am accepted.
xParticipate in Theme Week? Yes!
xApply for Contests? Yes yes yes!

*Whoring*

Post some pics showing us your ZomBie KiTTenness... Please no photoshopping or weird angles.
We'd like to see at LEAST 3 good pics but more is always better! Show off that killer outfit, hair or makeup!







Me and my beautiful little kitten, Lottie...


Post a 200x200 icon of yourself for the member page: