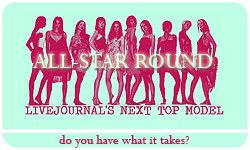 </a></b></a>
1topmodel
LJNTM is getting ready to wrap up an amazing 10th cycle, and will be entering it's 11th quite soon. Some of the best shoots from our current cycle have been,
1
,
2
,
3
,
4
,
5
,
6
,
7
.
Not only will be having a regular cycle, but we will be holding an all-star round as well. Feel free to check out Livejournal's longest running (three years, and counting) top model simulation community.
Don't forget to check out some of the other portfolios too. They can be found
here
.