you guys are terrible mods to get an attitude like that with a member of this community.
when someone gets an attitude you dont encourage them or others to keep going.
your journals do suck. almost everyones is some lame genterator code.


OH and yes, to add to everything;
PEOPLE offering help to those who dont need it instead of those who do,IS WRONG. NO. Bad idea kids. PEOPLE WHO KNOW HTML and actually can make layouts hate that, or you know I DO.


i am leaving this community, its not even worth my time.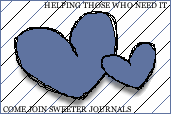 JOIN
sweeter journals