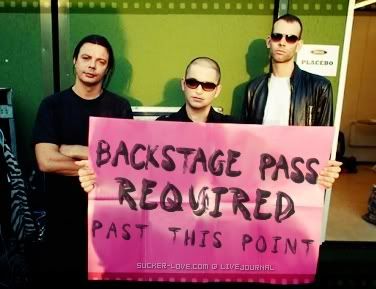 Those on the guestlist will receive :-
- viewing, posting, commenting, poll voting abilities
- exclusive after-parties, placeborgies
- free viewing of slacious treats & ongoings shared backstage.
Those blacklisted by security:-
- trolls, spammers
- members of anti-placebo / anti-placebo fandom communities etc
- those who steal the band's rider and do not follow the community guidelines
- new membership applicants with suspect empty journals and info.
TIPS on making the grade:-
- if you're new to the joint, the only way to get in on the action is to request membership.

In addition to doing so you must leave a quick comment here with
+ what country you're from
+ how you heard of/found the community.

All comments are screened, no information will be visible to others or passed on.


- we believe the more the merrier, so generally applications will be approved...
however if your journal/user info are void of information and you're not contactable via e-mail etc, it will be treated as a potential homophobe spammer, which means access denied!
It's unfortunate that we have to go through this process and we'll try to make it as quick and smooth as possible. Meanwhile, the 1,000+ members will tell you, it will be worth your while!