Wallpaper
Forsaken
Character: Castiel
Episode: Not episode specific
Main text - Lyrics from "Chop Suey" by System of a Down
Notes: So. I've been corrupted into a Castiel fangirl. Blame
xdnangel
. I was very anti-Castiel until the season 4 finale. Then
xdnangel
went and fell in love with him and started pointing out how Castiel is totally just like Heero Yuy from Gundam Wing- my first true love. X_X So. Uh. Yes. I <3 Cas.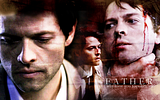 (

Father, into your hands I commend my spirit. Father, into your hands- why have you forsaken me? In your eyes, forsaken me. In your thoughts, forsaken me. In your heart, forsaken me...Collapse

)



ALSO!!! I don't normally make widescreen sized desktops because I'm probably the last person on the earth who doesn't have a widescreen monitor. As such, I'm not too sure when it comes to screen resolutions, so please let me know what screen resolution you use.

- DO NOT REPOST ANYWHERE. For PERSONAL USE only.
- Please DO NOT edit
- Comments = Love

Resources


More Supernatural wallpapers

Also, for you Harper's Island fans out there, HERE is angsty Cal/Chloe wallpaper from THAT scene in episode 11.