Wallpaper
Master of Puppets
Character: Ruby
Episode: Not episode specific
Main text - Lyrics from "Master of Puppets" by Metallica
Notes: The muses grabbed hold of me. Ugh. Ruby. x_X Sure, I might have liked her for all of 5 seconds, until I figured out what a lying manipulative bitch she is. But still. I like how it turned out.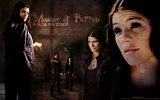 1280x800


- DO NOT REPOST ANYWHERE. For PERSONAL USE only.
- Please DO NOT edit
- Comments = Love

Resources


More Supernatural wallpapers