Another fanmix brought to you by me and
xdnangel
!! We put this mix together to reflect what's happening to Dean and Sam and their relationship in season 4. Everything is falling apart between Dean and Sam; there's too many secrets, too many lies, too many words said, too many fights and neither of them trust each other anymore. Their relationship is breaking apart; they might be trying to hold onto it but it's still slipping away. Like Dean says in Sex and Violence: "We used to be in this together. We used to have each other's backs." But now that's changed... and so we have
What Happened to Us?
.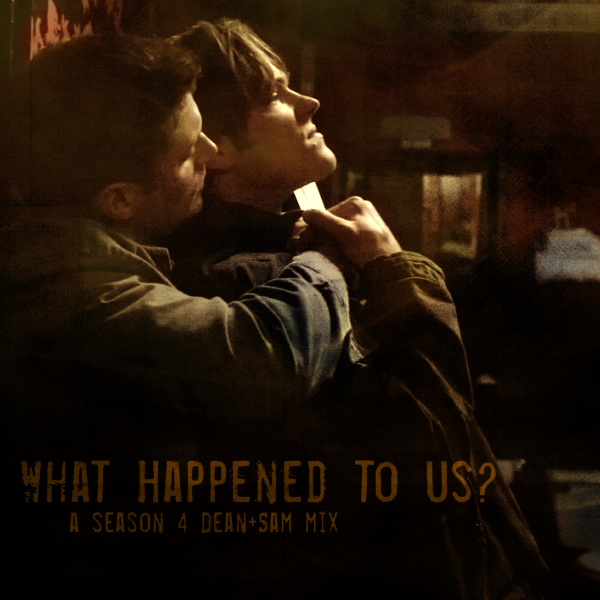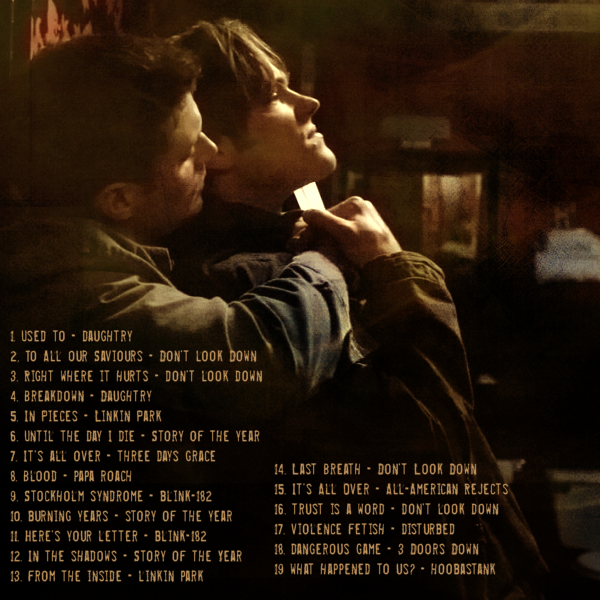 Mix by:
xdnangel
and
mulanreflection
Cover art by:
mulanreflection
1. Used To - Daughtry
I used to follow you,
Never cared where we would go… fast or slow…
To anywhere at all.
We used to have this figured out.
We used to breathe without a doubt.
The nights were clearer and for the first time that I see.
We used to have this under control.
We never thought, we used to know,
At least there's you and at least there's me.
Can we get this back?
Can we get this back to how we used to be?
2. All Our Saviors - Don't Look Down
Destruction moves in and surrounds
it's closing in. Are you listening?
Please, just listen.
I'm not quite sure-
are we in over our heads?
3. Right Where It Hurts - Don't Look Down
I'm reaching out- you turn away-
last time I'll try.
Complicated, frustrated by this endless night.
Keep falling further down,
are you waiting on the world to show you all the things you need inside?
4. Breakdown - Daughtry
Read it all, no need for separating it.
You see what you want and try to justify
all your little lines, convictions and your lies-
what right do you have to point at me?
5. In Pieces - Linkin Park
Telling me to go
but hands beg me to stay.
Your lips say that you love.
Your eyes say that you hate.
There's truth in your lies,
doubt in your faith,
what you build you lay to waste.
There's truth in your lies,
doubt in your faith,
all I've got's what you didn't take.
So I, I won't be the one,
be the one to leave this in pieces.
And you, you will be alone,
alone with all your secrets and regrets.
Don't lie.
6. Until The Day I Die - Story of The Year
Should I bite my tongue
Until blood soaks my shirt?
We'll never fall apart-
Tell me why this hurts so much?
My hands are at your throat and I think I hate you!
But still we say, "Remember when…"
Just like we always do.
7. It's All Over - Three Days Grace
I know what runs through your blood.
You do this all in vain.
Because of you my mind is always racing.
And it gets under my skin
To see you giving in,
And now your trip begins
But it's all over for,
It's all over for you, for you.
When you're on the edge and falling off
It's all over for you, for you.
8. Blood (Empty Promises) - Papa Roach
I will forgive but I won't forget
And I hope you know you've lost my respect.
You better watch out
If you don't know what's going on around you.
You better think twice
Before you fly off the handle and lose it.
9. Stockholm Syndrome - Blink-182
You're cold with disappointment
While I'm drowning in the next room,
The last contagious victim of this plague between us.
I'm sick with apprehension.
I'm crippled from exhaustion
And I dread the moment when you finally come to kill me.
10. Burning Years - Story of The Year
It's not what you have said,
It's what you have done
To let this come between us.
You're right, without a fight.
And this might be worth it to you
And in the process gotten to me.
11. Here's Your Letter - Blink-182
Apologize for the past,
Talk some shit, take it back.
Are we cursed to this life?
Fuck, I can't let this kill me, let go.
I need some more time to fix this problem.
12. In the Shadows - Story of the Year
We both take the hardest punches
And collect black eyes just to prove it.
Still we pass by just like strangers
And we speak just like the closest enemies.
13. From The Inside - Linkin Park
Trying not to break
But I'm so tired of the deceit.
Every time I try to make myself get back up on my feet,
All I ever think about is this
All the tiring time between
And how trying to put my trust in you just takes so much out of me.
14. Last Breath - Don't Look Down
I'm lost and longing; you'll always haunt me.
Cause I can't breathe,
You're choking me.
Your words are hands around my neck.
They penetrate my skin and kill me.
The things that you say mean nothing to me.
It's over this time. You made me believe
That I can break you…
That I can break you…
15. It Ends Tonight - All-American Rejects
A falling star, at least I fall alone.
I can't explain what you can explain.
You're finding things that you didn't know.
I look at you with such disdain.
The walls start breathing,
My minds unweaving,
Maybe it' s best you leave me alone.
A weight is lifted on this evening.
I give the final blow.
16. Trust Is A Word - Don't Look Down
How can I explain this,
So it hurts?
I did my best to love you,
But it never worked.
Have I bled this moment dry?
Do I burn you up
Or tear you down?
Either way I shut you out.
So let it go, without a sound.
One way trip, you're heading down.
17. Violence Fetish - Disturbed
Take a look around you,
You can't deny what you see.
We're living in a violent society.
Well, my brother, let me show you a better way.
Get your game face on because it's time to place.
You're pushing and fighting you way.
You're ripping it up.
18. Dangerous Game - 3DD
You stand before me,
Now we stare eye to eye.
Before another second clicks away
One of us will die.
19. What Happened To Us - Hoobastank
What happened to us?
We used to be so perfect.
Now we're lost and lonely.
What happened to us?
And deep inside I wonder…
Did I lost me only…
Download:
http://www.megaupload.com/?d=XVLPMH63
COMMENTS ARE LOVE! L.O.V.E! =) So please comment if you're taking.
-Please let us know if you download.
-Do NOT repost my graphics anywhere.
-Fanmix is ALSO posted at
xdnangel
's journal
HERE