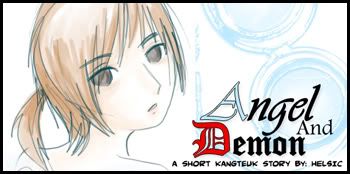 Name: The Angel and the demon
Genre: Yaoi/Lemon/
Pairing: KangTeuk
Summary: KangIn is a demon from the underworld with a mission in the heart... Kill LeeTeuk a pure Angel who comes from the heaven. But He don't know how smart and

sly is LeeTeuk...





UPDATE!!! click here!



Comment: I'm sorry! I finished all the comic in spanish but is hard to me translate to english in a good and correct english T_T! but I'm trying! thank you for reading! I'll post more tomorrow!