I really didn't have to do this but I wanted too so you guys could get to know me better.

Name?...

Lauren
Age?... 15
Astro Sign?... Leo
Location?... Ohio
Favorite Mob Move?... Oh course, The Godfather.

I want to know what you are into..what would/do you do?

Wear?... Wet Seal , American Eagle, Union Bay, Tommy Hilfiger, Pac Sun, Baby Phat, Ambercrombie, Request.

Listen to?... Twista, Ciara, Tupac, Ashlee Simpson, No Doubt.
Watch?... Growing Up Gotti, Family Guy, MTV, BET.
Hate?... Ebonic Ghetto People. Guys who lead you on just to get ass. Joking around in a mean way. Surprises. Not having any money. Ashlee Simpson Live. Girls who fcuk anything with two legs.
Love?... Michael, Scott, Frankie, Chris. Preppy guys who dress ghetto. Ghetto Guys who dress preppy. Pink. Mobsters. The Mafia.
If your girlfriend/boyfriend cheated on you with your best friend?... I would just cheat on my boyfriend. I know two wrongs don't make a right, but still.
If your boyfriend cheated on you with some random bitch...? ' kick his ass. I won't really need to fuck around with the girl unless she knew he was cheating on his girlfriend.
If some chick is going around saying she will kick your ass. She's 6' foot and has the biggest body you have ever seen in your life. Would you be scared? Why or why not?... I would get my ass a chair or metal bat. Or I would try and be-friend her. I'm really good at that. I always fight and then later on the person I was fighting with always ends up being cool with me. They say keep your friends close but your enemies closer. Right?

Talk dirty...(and we don't mean..sex...we mean talk like a bitch/asshole. Tell us why you hate these people so much. If your not mean. Forget about it!

Your ex?... Oh God. Don't even fucking get me started. When we first went out I thought he was pretty cool and everything but hes got to be the biggest loser I have ever talked to in my life. I'm not going to talk about how small his penis or anything is because I didn't fuck around with him. I didn't want to touch him and get heptatis, a, b and c. He thinks he popular and shit but all the guys in our grade use him for rides to parties and games and shit.
Your least favorite teacher?... Oh Wow. Sister Gail. I'm probably going to go to hell for saying this because shes a sister. But shes the biggest bitch. I swear. She yelled at me because I threw away two peices of paper in her garbage can. I was like, "WTF?" and she made a huge sence out of it in front of the whole class.
Your bestfriend?... I don't have a best friend, and if I did I wouldn't be saying shit about her.
Hilary Duff?... She can't sing. She can act. A little. She just needs to stick to that. I don't understand. Didn't disney and her get into a huge fight or something? Disney always wins people. haha. Hilary Duffs going to be one of those poor child stars that end up doing drugs. She is pretty though. lol
Lindsay Lohan?... I don't really have much to say about her. I hope she kicks hilary duffs ass. That was about as mean as I could get.

(Pick one other person)

Ashlee Simpson?... I like the girls music and everything on her CD. It's like my favorite CD I have heard in a really long time. But she can't sing in person. She sucks. She needs to stick to acting. Like look at all of the little teen sisters who are breaking out. They won't be as big as there sisters/brothers, so why are they even trying? Whenever she sings LIVE I always think of Sister Gail scraping her nails against the chalk board.

Cum'on tell me what makes you...

Special?...

I'm not fake and i'm not trying to be someone i'm not to get accepted into some of these dumbass rating communities that want you to be "fetch" and fucking all this other bullshit. I am *Plastic* Though. haha
Sexy/Cute?... People say I look innocent or like a cheerleader, but i'm really misleading. Thats what makes me so sexy or cute. I guess.
Feared?... At school, what makes me feared is probably nothing. haha. I hang out with the preps so like everyone pretty much hates me (unless there a prep themseleves) or is to freaked out to talk to me.
Loved?... I don't think i'm loved by many people but my group of friends.

Tell me have you ever?

Drop the "f bomb" around 5 times a minute?... All the time.
Been arrested?... Nope. Won't be.
Smoked?... Nope. Won't be doing that shit. Unless its a cigar. haha
Drugs?... No.
Drink?... Yes.
Shoplifted?... No.


Word Association...give me one word that comes to mind and why you picked the word!

Girl/Boyfriend?... Football Players
Candy?... Sex
Mobsters/Gangsters?... Sexy
1920's?... Gold
Guns?... Men <33
La Bella Mafia?... Chick Mafia
Sex?... 69
Drugs?... Extacy
Pink?... Cute
Black?... Dark
Porn?... Dumb
Organized Business?... Demand

Now tell me what/who is...?

Favorite Actor?... Johnny Depp
Actress?... Halle, Angelina Jolie.
Singer?... Ciara
Sport?... Football
CD?... La Bella Mafia, Autobiography.
Fuckin' Ugly?...
Flippin' Hott?... Michael
Foods?... italian.

If you want to be in the La Bella Mob you need to know some facts about life. Whats your opinion on these problems?

Same Sex Marriage?... I really don't care. I mean i'm catholic and your not suppose to support it. But love is love and I mean come on, its not hurting you if someone marrys the same sex.
Plastic Surgery?... If you want to make your body look better it is your decision and no one elses business. Just make sure you don't go over board.
Teenage Pregnancy?... It's wrong. Keep your legs close and make sure your mans dong is in his pants until your 20. If you do though, just use protection its as easy as that.
Abortion?... I really dont know where I stand here.

Hate Crime?... it's dumb. people who kill other people because of there religion or race or whatever is pretty fucked up.

Now, talk dirty. We mean what you think now. But keep it at a PG rating. You can make it as nasty as you want too. (ex. I got me some great pie last night from my best friends girlfriend.) I didn't say anything wrong. But you still get the picture.

The person you like?... Oh my God. Michael. wow. He's a football player. I love love love football players. I would probably do him in every possible football posistion. haha. I would want him to take me so hard I would cry. lol I'm just kidding.
Some random person you know?... Alex. He's pretty hott. Hes a crimpled kid I know. He's a bit of a perv too. I would fuck him just to see what It was like fucking someone who couldn't really use his legs that well. haha
Someones dad/mom?... Oh oh oh.. this chick i know, brittany. her dad. wow i would do him in a second.

If your accepted this will become a new hott spot for you right? Make sure you support your mob and promote!! I dont have to promote. haha im the don. bitch.

Post one clear picture of youself and two others...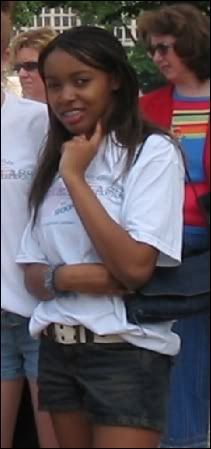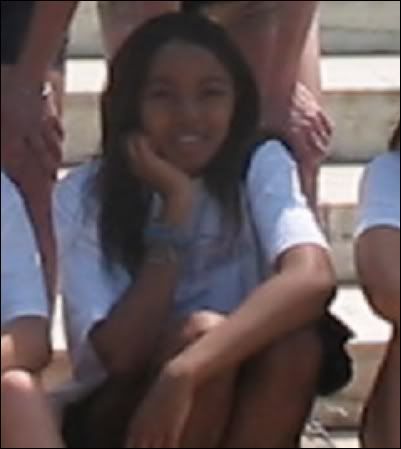 not really a clear picture but... <333