Here we go ...


THE BASICS

Name: Brad
What you would rather your name be: I like Brad. But if I was a girl; I'd like Paige or Josie.
Age: 20!
Location: St. John's, Newfoundland, Canada
Gender: Male
Sexual preference: Females
Status: Single ;_; Ha

FAVOURITES

10 Favourite bands (give or take a few):
01 Fall Out Boy
02 Something Corporate
03 Straylight Run
04 Taking Back Sunday
05 Brand New
06 Copeland
07 Matchbox Twenty
08 Pete Yorn
09 The Academy Is ...
10 Motion City Soundtrack

3 Least Favourite bands:
01 Busted (I think they're broken up now. But I never did like them or anything about them)
02 Limp Bizkit (I admit I use to listen to them back in the day; but since Chocolate Starfish it's all been downhill and Fred Durst has become this media whore and I dunno, I just don't like them at all anymore that's all)
03 Jo Jo (wtf?)

5 Favourite movies:
01 That Thing You Do!
02 The Breakfast Club
03 High Fidelity
04 The Nightmare Before Christmas
05 Degrassi High: Schools Out! (Bahahaha)

2 Favourite books(put Catcher, Perks, A Clockwork and prepared to be rejected):
01 To be honest I don't read much - And out of the 3 listed above I've only read Catcher.
02 So I don't know what to type here. Sorry. I liked Kurt Cobain : Journals tho and The Boy With The Thorn In His Side by Pete Wentz.

Favourite food: Nachos
Favourite colour(s): Blue
Favourite song lyric: "Blue stars don't seem so bright, When everything you see is in black and white" - Decay, Socratic

Favourite article of clothing (picture if possible): Mine? Umm I dunno, boxers?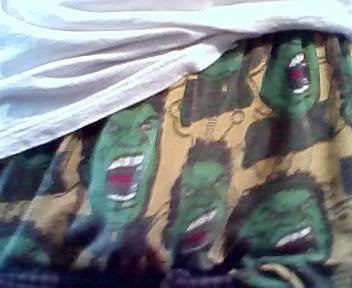 I really really don't know.

Favourite quote: "Talk is cheap because supply exceeds demand." - Unknown
Favourite Pickup Line: "Hey, what's your name?"

OPINIONS (elaborate, or get bitched at)

Gay marriage: Why not? I don't know what the big deal about this is - oh no, not to people of the same sex getting married ;_; what will we ever do? What would Jesus do? Umm, I dunno I'm not making sense. Things like this I could care less about, I'm not one to fight for gay marriage - the most I do is probably just have an opinion during conversation favoring it.
George W. Bush: Bah, dumb president who's power happy. Way to go guys for electing him again!
Self Mutilation: Stupid. If you need to release yourself go put on a record or write yourself out or something along those lines - that don't invole you bleeding all over the place.
Snow: It can be a bitch at times, but nice during others. Like say for instance I need to go to umm somewhere and I can't because the roads are snowed over (that sucks) but it can be romantic. Yes!
Emo: Sub-genre. Trend. I like it.
True Love: There's a true love out there for everyone, maybe you'll find them - maybe you won't. Time will tell.
Life after Death: I like to think there is a life afterdeath personally. I believe in the whole heaven thory and what not, but it probably won't be walking on clouds and hanging out with Elvis.
The mods here: The mods are actually good looking unlike some communities. Ha
Rant on anything you feel strongly about: THEY SHOULD PUT ALL THE TEENAGE MUTANT NINJA TURTLES SEASONS ON DVD NOW! INSTEAD OF JUST RELEASING ONE SEASON. Yeah, I'm a dork. :D


THIS OR THAT(and explain why)

Coke or Pepsi: Coke
Hugs or Kisses: Kisses
Day or Night: Night
Math or English: English
Boxers or Briefs: Boxers

WORD ASSOCIATION

Uber: 13 year old girl
Rad: 7Up Guy
Box: A Cardboard Box
Sock: Mr. Socko
Clown: Bozo
Britney Spears: That song Stronger
Perplex: Mr. Perfect :S

MISCELLANEOUS

What makes you so amazingly rad? I have this t-shirt :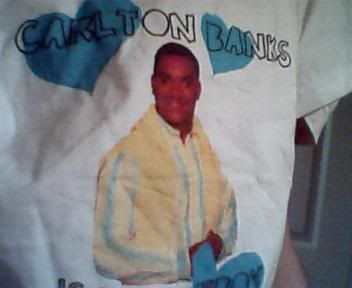 It reads, "Carlton Banks Is My Homeboy" I'm a sexy bitch *growl* Haha Geez

Tell us one secret: I still smoke sometimes (not heavy) when I tell people I don't. bah I know it's dumb, and I'll stop. I don't call myself a smoker or anything because at the most I've only smoked like 4 a week.
Make us laugh:



Who seems like the raddest mod? Tammy
Why do you want to join this community? Seems okay.
Where did you hear about us from?</> Someone posted a link in my journal.
Promote us in two places (and provide links):
http://www.livejournal.com/community/000000000000008/180797.html
http://www.livejournal.com/community/00000000000000c/113314.html


PICTURES

One 100x100:


and 3-10 other pics: