[Basics]
Name: Tany Monteiro
Age: 16
Location: Manaus - Brazil
Sex: girl
Where did you hear about us? (Who invited you?): i saw in another community.

[Favorite...]
Genre(s) of music: punk, punk rock, emo, hardcore, indie, alternative, some brazilian bands too.
7 bands/artists:
+Le tigre +Placebo
+Pretty girls make graves +The mars volta
+Death Cab for Cutie +Portishead
+Cat Power +My chemical romance

Book(s):
+Hell +Quem mecheu no meu queijo? (Brazilian Book)
+The Secret Diary of Laura Palmer +Christiane F.
+Harry Potter

Pattern(s): stripes
Grade in school // why? No.
Pizza topping: Loppiano
Holiday // why? I can say some brazilian holidays, expecialy in september and november, once in a week we have a holiday and we don't have any classes. yay.
Country: Australia
Random thing: i like all my paints, i pain and i think they so cute, i think that is the only think that i have to proud about me.


[Word Association]
Pop: Suck
Day: light
Sign: my nome
Paradise: my room
Butt: fat
Jello: eat
Smelly: food
Haha: laugh
Beautiful: kathleen hanna
Duck: dick
D00d: lame
Beautiful: again?


[Random]
What is something that makes you different?
I don't live close of you guys but that doesn't mean that I am worst or with no culture. I have my own opinions and I always say the truth and this isn't always good. i dream a lot, and i always think how my life can be in the future. i like the future and also like to paint, and I have tres desires: to be happy, to travel all world and to be loved

What is one thing you've not done that you wish you could do?
play in a girls band.

If you were a shoe, what style/brand/kind would you be and why?
an a all star, simple and pretty and everybody has a least one. or a mellisa it's sexy.

[Answer only TWO questions in this section]
Which character from The Simpsons do you think you're most like?
If you were a song, what song would you be and why?
Hello, I'm neurotic
Creating problems that don't exist
Don't believe me when I say it's alright

Lets go to my apartment
We'll pull the sheets up over our heads
Forget all the reasons to go outside

Beats pulse, they're automatic
Locked inside of my apartment
Make confessions with the television on

I'm fine

pretty girls make graves - blue jeans
*they made this song for me, i think. is totally me*
What do you hope to achieve before you die? make a filme, a brazilian filme doesn't matter if i'm gonna be famous, but if i made i good movie in my life i die happy (i wanna be a film director)


[And finally...]
Promote us in at least one community (or two users) and show us the links:
http://www.livejournal.com/users/quadhotaru/16945.html?view=80433#t80433
http://www.livejournal.com/users/falloutromance/10684.html?view=700#t700

Post no less than 4 and no more than 7 photos of yourself: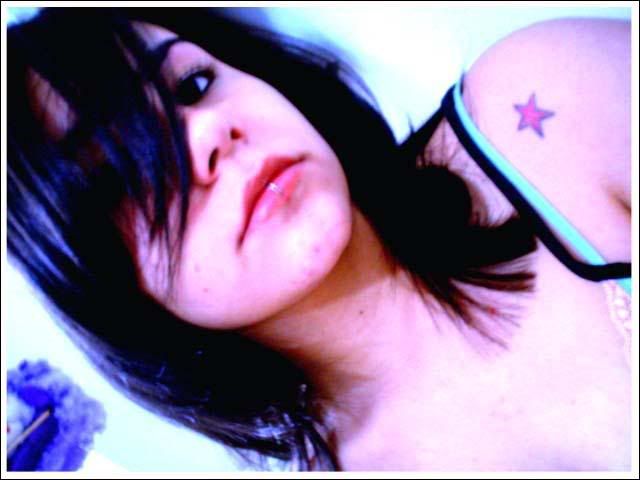 Post one 100x100 photo of yourself for the members list:




ps: i'm sorry about any mistake, i'm brazilian and i'm training my english.