BORING STUFF
1.)Name:bronte
2.)Age: 14
3.)Location:CA
4.)How would you describe yourself?Energetic.Loving.Caring.Funny.
5.)Sexual Preference:straight
YOUR OPINION ON
6.)Abortion: I think it is wrong. But I think the women who want to do it, have the right to do it.
7.)War: Stupid way to solve things
8.)Gay Marriages: Right on!
9.)Sex before marriage: Like I said on the first question, people have the right to do whatever they want.
FAVORITES
10.)Movies:You got sereved. Phantom of the Opera. Honey. Now and then. Billy Madison
11.)Bands:System of a down. 3 doors down. Black eyed peas.The killers.
12.)Clothes store:Abercrombie. Holister. Forever 21. PACSUN.Val Surf. Urban Outfitters
13.)Place in the world:Hawaii
15.)Person in the world (and a picture if you have one):I have a group called J.A.S.B.J it stands for jayme,alex,sam,bronte and jordan.
They are my best friends
THIS OR THAT:
16.)Pepsi or coke:coke
17.)Urban Outfitters or Abercrombie and Fitch:Abercrombie
18.)Republican or Democrat:republican
19.)Cat or Dog:dog
20.)Love or Lust:love
21.)Brain or bust:brain
22.)The OC or One tree hill:OC
23.)Johnny Depp or Colin Farrell?Johney Depp
24.)Make us laugh:You know your a redneck when you stare at a pitcher of orange juice because it says concentrate.
RANDOM SHIT
25.)What do you want to be when you grow up? A famous dancer. Or clothes designer. Kind of like J.LO but without singing and acting
26.)Hobbies: dancing.
27.)What would you do if you found out you were going to die within a month? I wolud tell my crush that I liked him. Spend as much time with my family and friends as possible.
28.)Kiss our ass: ?
Show that you have promoted our community to 2 livejournals or one community:
www.livejournal.com/users/heart_x_breaker/
www.livejournal.com/users/un__lovely/

Now show us at least four CLEAR pictures of yourself:
left
right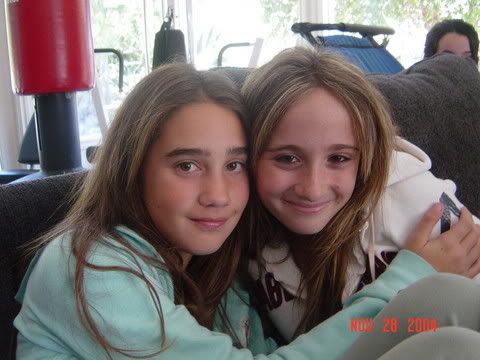 right