a_ngua
asked me if I could translate any of the AnK short stories, so I thought I'd give this a go. Consider it a belated comm anniversary gift!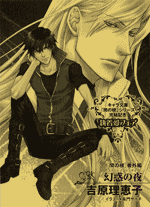 Title:
Illusion Night [Genwaku no Yoru]
Author:
Rieko Yoshihara with cover art by Saichi Nagato
Info:
A bonus story published in 2010 to commemorate the end of the series. Takes place during the events of Volume 8 in the new edition OR between Chapters 5 and 6 in the old edition (synopsis
here
).
Summary:
Riki never expected Iason to move him from his Eos apartment to new lodgings in Apathia. He is then staggered to learn Iason will grant him a privilege not normally given to pets: the chance to earn a living for himself in the Black Market. But Katze's taunts about Iason's interest in him leaves Riki uneasy...and tormented by his own conflicted desires.
Download (2.2MB):
Mediafire
|
4Shared
(Thanks to
rainbowfam
,
czmadzia
and
a_ngua
for their help!)