Er, can anyone help me (not mentally of course - I am too far gone for that)? I need this picture of Cid Highwind from AC


This is the shot I'm after (scene = fighting the Bahamuk Sin and all the gang are reunited. Cid is talking about Sierra. Just before pointing up at the ship).
I need it to be a full size one though - as in the screen shot. However.. this is where it gets a little complicated. As I will be cropping it down, I need Cid's head mainly and it needs to be between 250-300 pixels long, because I need a 300pixel square picture to use. For example... Like this when I crop it down...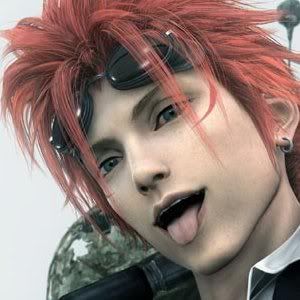 (Reno is always a good example..... for pictures anyway.)


If any one can link me to a picture or such then I would be most grateful - my DVD should arrive tomorrow - its early!!! But I need the piccy soonest.