They were requested. I'm sorry for back-to-back posting.

Not screencaps this time! VIDEOS!!!

The quality isn't that good, since I took my digi-cam and videotaped the movie directly off the screen, but the clips serve their purpose.

First off:

We have the pheonmenally done Zack dub with Rick Gomez as his voice!
Advent Children Zack Dub
And lastly:

THE HORRORS OF THE ADVENT CHILDREN DUB!!! Starring Yazoo and Loz. Rude and Reno good enough to pass.
Let's Just Call this One "You Meanie!"
I still can't believe they gave Loz a line like that.

And, as an added bonus:

ZOOLANDER LOZ!!!!!!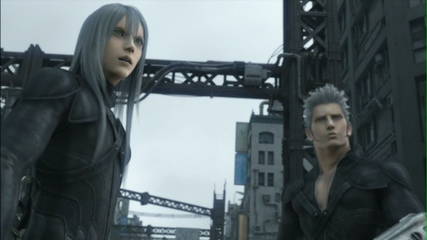 Jeez, you people are gonna be the reason why I lose sleep, drop out of school, and die an early death....I lose sleep!!!

And with that, I'm calling it a night.