So I have some pics of the other finger puppets I made, except I'm only posting pics of Reno and Rude since all the other pics came out like total shit since I had to take them with a disposable camera. So yeah, they're kinda washed out and I tried to fix them as much as I could, but I have no patience today. I would like to post the pics I took of Loz and Kadaj, but like I said; they came out like shit cause kodak sucks.

EDIT I lied. Post now has pics of Loz, SHM+kaasan and The Turks. Cause I just can't say no to you guys.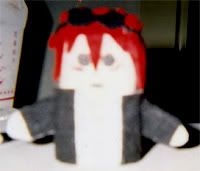 Reno, who has turned out the best of all the ones I made. Second best is Loz who I can't show off alkjfgakldsfjklsaf *seethes*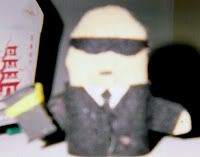 Rude and Kaasan taken simply because
kaasan mentioned that she thought Rude was the most handsome Turk and so I figured it'd be good to get a pic of Rude macking on Kaasan. Yup.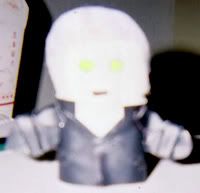 Even though you can't really see it, Loz's hair it all nice and poofy and I like it. I fixed up his eyes with photoshop and in reality, they're a bit brighter and more green.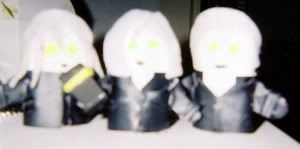 All three of the SHM complete with Kaasan box. And yes, Kaasan can be held by all the puppets. I had to sacrifice a hair tie to accomplish that.



All four Turks, yey :D Tseng's head looks smushed cause I finished him at 7:30am on no sleep. He doesn't look quite so stupid in real life though :x


I'll have better pics on friday since my friend is coming up for Yaoicon and she's bringing her digital camera.