I've been wondering about this for some time, but I have to ask now.

Reno. Why does everybody like him now? D: I liked him back in the game when he was cynical and cocky, but now he's just... goofy. AC screwed with his personality and now people love him. wtf? Is it because so many people just watch the movie and never played the game?

I mean, I'm not wrong, am I? AC changed his personality by a million. I was used to seeing Reno in fics raping people and blowing brains out. D: (That was at its worst, of course. There were always drugs involved too! :D) Now he's nice and cuddly and child-friendly. There was always a level of sincere kindness toward Cloud's gang, but not that much.

Don't get me wrong. XD I still love him either way... I'm just wondering how he went from drugged-up bastard to cute goof-ball. Is he on "happy drugs" now or something?

And because I love my scans...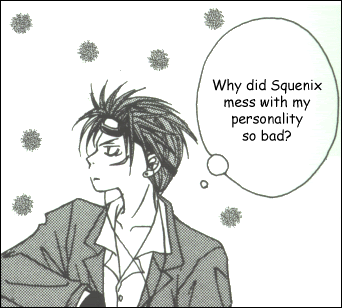 ;D