Exclusive: 'Go-Getter' Film Getting June 6 NY, L.A. Release Date; Soundtrack Features M. Ward & Zooey Deschanel
Yes, it's true, there's a small, but fervent constituency of fans and followers desperate to see the Lou Taylor Pucci, Zooey Deschanel film, "The Go-Getter" (directed by Martin Hynes), and after months of silence and speculation, a source very close to the production has confirmed to us that the film will see its first official release in New York, Los Angeles and Toronto on June 6.


Who's releasing it and will it go wide after that? The distributor that has bought the film is Peach Arch Entertainment (the upcoming "Chapter 27," with Jared Leto), and presumably, the film will at least go into other major North American markets after that, but official word is mute so far. The DVD however, will follow the theatrical run in the summer (but don't expect one of those indie "day and date" releases; DVD, OnDemand and theaters).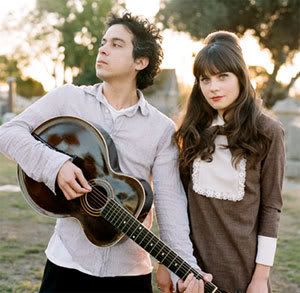 Why is the film coming out now all of a sudden when it debuted in January 2007 at Sundance?

Perhaps a small reason is the timely success of Deschanel's collaboration with Portland folk singer M. Ward: the recently released (and celebrated) debut album Volume One under the moniker She & Him. And of course it's been widely reported that Deschanel and M. Ward first met when recording a cover of Richard & Linda Thompson's road classic, "When I Get To The Border," for "The Go-Getter" film. Ah, convenient synergy marketing/word of mouth dovetails perfectly.


Source: The Playlist (Click for past info., including the soundtrack)