x-posted to all other zine communities on my friend list--sorry if I'm flooding yours. :(
Permanently Reduced Prices on All Issues of Slipping Through!

That's right.
I was told a while ago, that I'd likely have more luck getting distroed if my prices were lower, and this made much sense, so I decided to do it.
So now, regardless of whatever price may be xeroxed onto the cover of any of the three Slipping Throughs, they are now just $1!

Issue 1 (out of print, more can be copied upon request)
The Time Issue
The first-ever issue. You'll want this like crazy if you're going to get the other ones. Okay, not really, but I figure how else will I sell copies? *grin* Poetry, stories, articles, etc, etc, etc, all relating to the subject of "Time." Half-size.





(not actual cover....sorry)
Issue 2--The Pain Issue (ignore the "coming soon: it's out and ready for you to read it!)
More fun ramblings and art and poetry and journal entries relating to Pain. An improved look! Features Ricky the Talking Razorblade--may be offensive to some. But what zine would be complete without several Very Pissed Off People? Half-size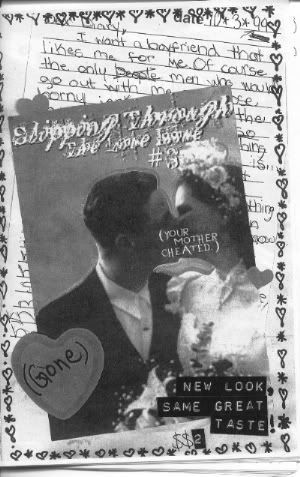 (actual cover!)
Issue 3--The Love Issue (same as issue 2)
My most favorite yet, if I may say so. Deals with...come on. Do I really have to say it? Poems, art, photograph, and stories of my own dealings with love. Don't worry, that part's short. Half-size


All Issues Just $1.25!!

(Distros, take note! The wholesale price is $1 per copy, and if you buy 4, you get one free.)


Also available for your reading pleasure...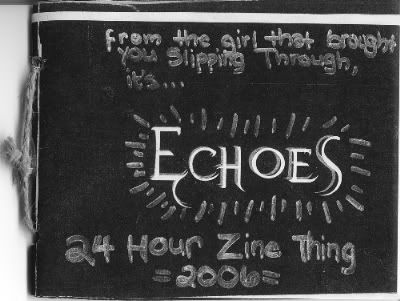 Echoes 1/1
My submission for the 24-hour Zine Thing. Quarter-size.
75 cents, or 25 cents if you buy one of the above issues.
Limited copies, *will not be reprinted*

I take trades for each of the above zines.

Currently looking for distros to carry the above zines--if you might be interested, please contact me. *smile*

Hi,
I am trying to get more traffic to my site (who isn't?)
http://iwishihadapenguinfriend.com
it's all comics that i've drawn and I've recently put them together into a book to sell.
Trades are ok, too
thanks so much!