Name: Lucia
Age: 20
Location: Delaware
Picture: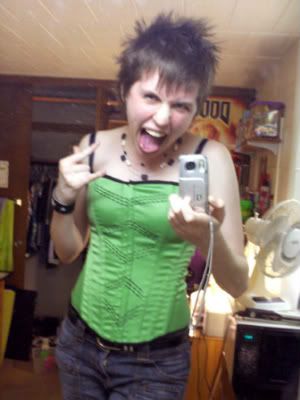 (Hahaha this picture was actually meant as a joke for someone's birthday)
1. Are you straight edge? For how long?
Yuuup. I've followed "the rules" my whole life, but didn't know edge existed till I was 13 or so.
2. Favourite bands/artists?
Alkaline Trio, AFI, Lacuna Coil
3. Best show you've been to?
Big Bad Voodoo Daddy in Philly was pretty kickass :3
4. Fat Elvis or Skinny Elvis?
I'm afraid I must claim indifference here
5. Anything else you'd like to add about anything really? (don't be shy!)
Actually, I have a question... I'm turning 21 in February, and since I'd rather avoid the LOL IZ GUN GIT U DRUNKZ idiots that week, does anyone know of any straight edge shows in Philly around then? I have absolutely no exposure to the real-life edge scene thus far; I just sit quietly in my room being sober. Haha. It'd be nice to go out and meet some people.