Name~Arianna a.k.a. Oreo
Age~14
Birthdate~March 4
Location~GA
Gender~Female
Sexual Preference~straight (is that what your asking?)
Favorite Bands(20 maximum, 5 minimum)~Taking Back Sunday, Blink 182, The Used, Velvet Revolver, Green Day
Favorite Songs(10 maximum)~Rock Show, First Date, Always, A Decade Under The Influence, Hell Song, Did My Time, American Idiot and much more
Favorite Lyrics~Stay Together For The Kids-Blink 182
Rock Idols(1 girl, 1 guy)~Tom Delonge, Ashlee Simpson
Lyrics Of How You Feel Currently~Down-Blink 182
Opinion on sXe~awesome idea i love to whole idea of no drugs no alcohol and no sex thing
Opinion on drugs~go ahead die
Opinion on alcohol~dont mind it aslong if its not around me
Opinion on smoking~i hate it my mom use to smoke it ruined her life
Opinion on casual sex~use protection
Opinion on sex before marriage~once again use protection
Opinion on gay marriage~dont care my uncle is gay
Opinion on President Bush~I hate him
Anything else you'd like us to know?~my community is xRockWorldx
Why should you be accepted? What makes you unique?~
~Pictures!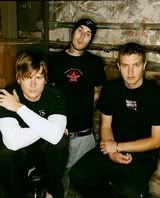 My Fave Band of all time and they are so fucking hot...dont you think?

~Promote in one community and give the link!~

http://www.livejournal.com/community/_simple_plan/264582.html#comments