Sorry the picture quality is so bad, my webcam isn't in very good shape.



I just bought this necklace today for $6 at a small store called Inspired By Angels. It's beaded with wooden beads, and each of the oval beads have a replication of a piece of Catholic artwork on them. I'm not religious at all, let alone Catholic, but I just really liked the necklace.



I bought this shirt on Wednesday night for $8 at Avalon Exchange in Pittburgh. It's vintage, and says, "Where the hell is downtown Folsom?" on the front and, "Pine View Lodge. Black Horse Pike. Folsom, N.J." on the back.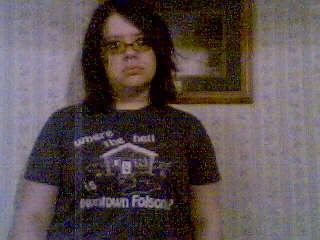 Shirt again.