I shrunk down the picture this time so it wouldn't take up so much space as I already posted it once already.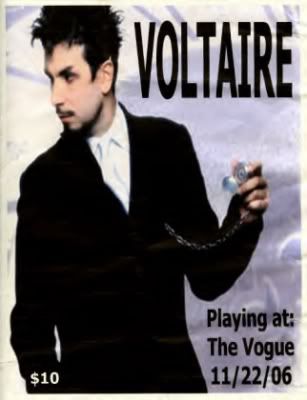 Voltaire will be at the vogue in seattle on wednesday! I'm not sure if it's at 8 or 9 though so it would probably be a good idea to get there kinda early. I will assume it's at 9 because that's when the vogue usually opens. Address is 1516 11th Ave, Seattle, 98122. This is a 21+ club and show.
But wait, even more news this time, OMG! He will also be around the corner and down the street at MusicWerks at 5pm for a totally awesome in store signing. So even if you can't go to the show you can still meet Voltaire in person. Yay!
My writing of this looks so bad. Ha. If I'm missing anything, feel free to let me know. Please.