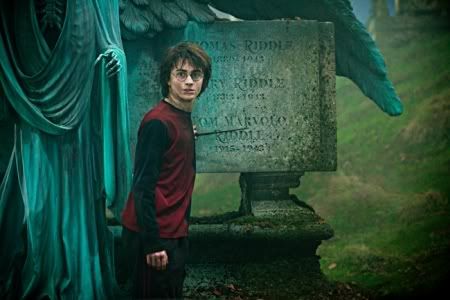 IMAX Corporation and Warner Bros. Pictures announced today that
Harry Potter and the Order of the Phoenix
- the third Harry Potter film to be converted into IMAX's format - will be simultaneously released to both IMAX® and conventional theatres on
July 13, 2007
. Harry Potter 5 Coming to IMAX
Source: IMAX Corporation June 21, 2006
(
Collapse
)
In the latest Harry Potter movie, the girls from the French wizard school Beauxbatons appear in uniforms with exaggerated, swept-back, air-hostess hats.
(
Collapse
)
insanely jealous of the Queen suddenly::: Update: Video from 'Potter' skit for Queen's birthday party
Earlier in the month, we reported that four of the young actors from the Harry Potter films were set to appear in a video clip to be featured during the Queen's 80th birthday Children's Party on June 25th.
A commercial recently aired on the BBC in the UK showing a brief clip of their skit, which shows Harry, Ron, Hermione and Neville in the Gryffindor common room.
UPDATE: Screencaps and video of the commercial can be seen from links at hpana.com .... You can also see a list of the guests attending the event here from the Radio Times.
Go to hpana
dispute over whether or not to erect a statue of Richard Harris, aka Dumbledore
who knew he was such a hellraiser??
link to BBC article