If you like these you can see more on my deviantart account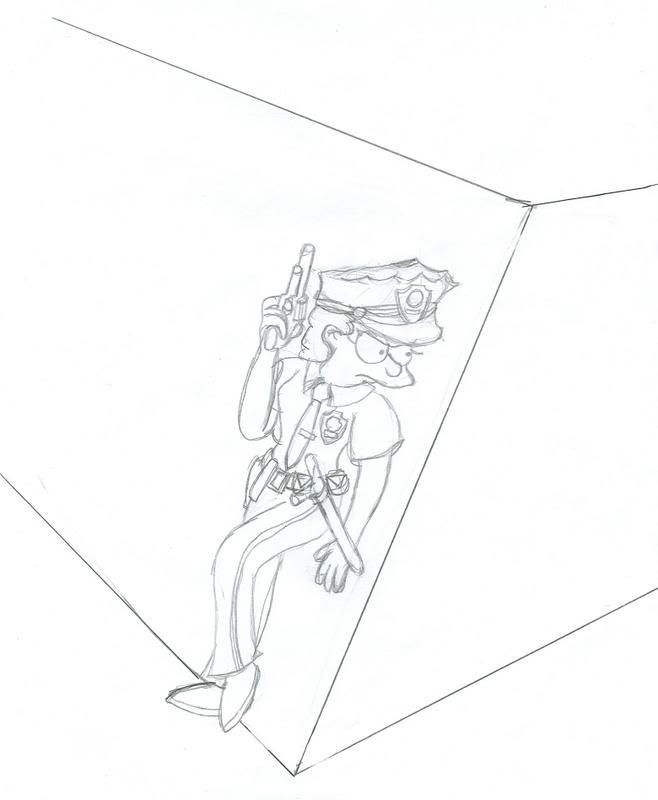 A picture of Office Marge on duty tracking down a criminal. Inspired by episode 2F21 The Springfield Connection, When Marge beats up Snake during an alley fight, she decides to become a police officer, with Homer right behind her taking advantage of the opportunity.


Marge done up like the Statue of Liberty. This is a rather old picture I ran across in my many piles of papers.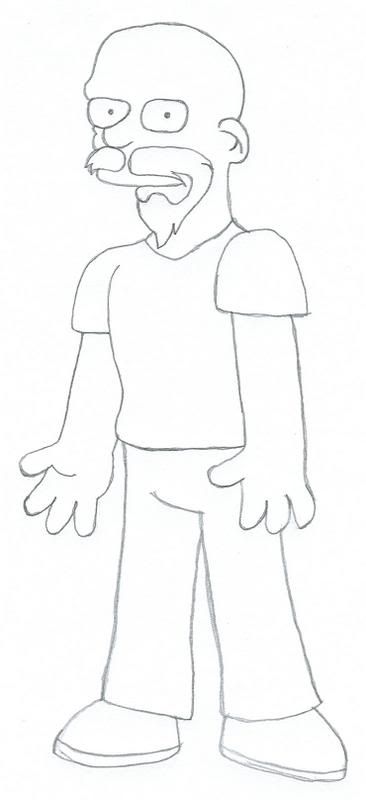 My good friend and High School history teacher Ben Hartnell.


My good friend and A.P. Government teacher Dr. Tom Peet. He is one of the biggest Democrats I have been proud to know (being a Democrat myself). He does wear his flash drive around his neck all the time like that. I only regret I couldn't fit the pocket Constitution he carries around all the time in his shirt pocket, due to the angel of the shot.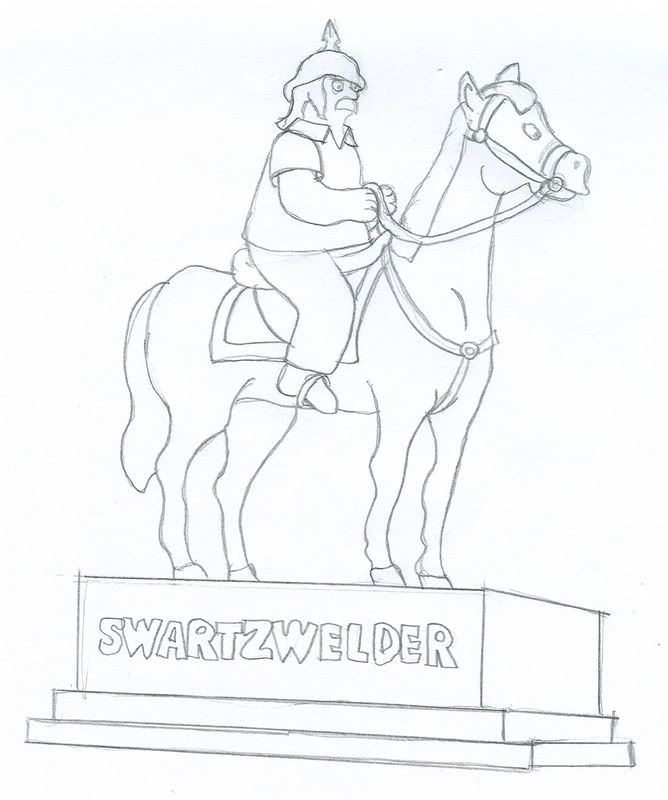 This is the statue outside the courthouse in the episode "Home Sweet Homediddly Dum Doodily", in which the animators paid homage to Swartzwelder with a statue of him (on a horse).

John Swartzwelder is one of the best and most proliferate writers on The Simpsons, below is a list of the episodes he wrote.

* "Bart the General" (7G05) (1990)
* "The Call of the Simpsons" (7G07) (1990)
* "Life on the Fast Lane" (7G11) (1990)
* "The Crepes of Wrath" (7G13) (1990)
* "Treehouse of Horror" (7F04) (1990)
* "Two Cars in Every Garage and Three Eyes on Every Fish" (7F01) (1990)
* "Itchy & Scratchy & Marge" (7F09) (1990)
* "Bart Gets Hit by a Car" (7F10) (1991)
* "The War of the Simpsons" (7F20) (1991)
* "Bart the Murderer" (8F03) (1991)
* "Treehouse of Horror II" (8F02) (1991)
* "Homer at the Bat" (8F13) (1992)
* "Dog of Death" (8F17) (1992)
* "Brother, Can You Spare Two Dimes?" (8F23) (1992)
* "Itchy & Scratchy: The Movie" (9F03) (1992)
* "Whacking Day" (9F18) (1993)
* "Krusty Gets Kancelled" (9F19) (1993)
* "Rosebud" (1F01) (1993)
* "Homer the Vigilante" (1F09) (1994)
* "Bart Gets Famous" (1F11) (1994)
* "Bart Gets an Elephant" (1F15) (1994)
* "The Boy Who Knew Too Much" (1F19) (1994)
* "Itchy & Scratchy Land" (2F01) (1994)
* "Homer the Great" (2F09) (1995)
* "Bart's Comet" (2F11) (1995)
* "Homie the Clown" (2F12) (1995)
* "Radioactive Man" (2F17) (1995)
* "Treehouse of Horror VI" (3F04) (1995)
* "Bart the Fink" (3F12) (1996)
* "Homer the Smithers" (3F14) (1996)
* "The Day the Violence Died" (3F16) (1996)
* "You Only Move Twice" (3F23) (1996)
* "Mountain of Madness" (4F10) (1997)
* "Homer vs. The Eighteenth Amendment" (4F15) (1997)
* "The Old Man and the Lisa" (4F17) (1997)
* "Homer's Enemy" (4F19) (1997)
* "The Cartridge Family" (5F01) (1997)
* "Bart Carny" (5F08) (1998)
* "King of the Hill" (5F16) (1998)
* "The Wizard of Evergreen Terrace" (5F21) (1998)
* "Homer Simpson in: "Kidney Trouble"" (AABF04) (1998)
* "Homer to the Max" (AABF09) (1999)
* "Maximum Homerdrive" (AABF13) (1999)
* "Monty Can't Buy Me Love" (AABF17) (1999)
* "Take My Wife, Sleaze" (BABF05) (1999)
* "The Mansion Family" (BABF08) (2000)
* "Kill the Alligator and Run" (BABF16) (2000)
* "A Tale of Two Springfields" (BABF20) (2000)
* "The Computer Wore Menace Shoes" (CABF02) (2000)
* "Hungry, Hungry Homer" (CABF09) (2001)
* "Simpson Safari" (CABF13) (2001)
* "A Hunka Hunka Burns in Love" (CABF18) (2001)
* "The Lastest Gun in the West" (DABF07) (2002)
* "I Am Furious Yellow" (DABF13) (2002)
* "The Sweetest Apu" (DABF14) (2002)
* "The Frying Game" (DABF16) (2002)
* "Mr. Spritz Goes to Washington" (EABF09) (2003)
* "Treehouse of Horror XIV" (EABF21) (2003)
* "The Regina Monologues" (EABF22) (2003)