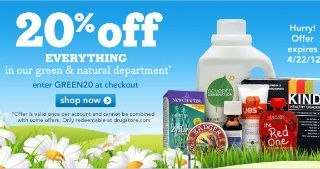 20% off

in the Green & Natural Department
*If purchasing pdts that are applicable for BOGO and/or $X off coupon, do indicate if you would or would not wish to proceed without the discount. In the event that it is not indicated, I would take it that you will top-up if there's no discount.
*No bulky items, sprays, polishes, fragrances, electronics!
*Only those with Everyday Free Shipping, and must be instock.
*Not accepting items that state Ground Transportation
*Payment must be made before posting. Post your order & payment in
ONE
comment.
spreefeedback [+520/3n/-0]
thanks for the feedbacks!
(
spree away
Collapse
)