Name: Jenny
Age: sweet 15.
Location: 90210
Three words to describe yourself: funny, immature, cute.
Top 10 Bands: hmmmm i listen to a HUGE VARIETY of music. I had this whole 'rap' phase- didn't we all? But now i'm getting a little more into rock and i guess you could say 'emo?'. Some bands I listen to are Maroon 5, Lenny Kravitz, Sugarcult, Dashboard Confessional, Gavin DeGraw, Rooney, Ben Jelen, Craig David, Beyonce, J Lo, franz ferdinand, the roots, ashlee, the killers, jack johnson, enrique, counting crows, Usher, ..i donno....... i listen to everything......
Top 10 Movies: Movies: funny ones, sad ones. i cry in the funny ones and i laugh in the sad ones, i love everything umm, the notebook, a walk to remember, heartbreakers, rat race, club paradise, the birdcage, mean girls, along came polly, love dont cost a thing, american pie 1/2/3, scary movie 1/2, something's gotta give, thirteen, pirates of the caribbean, titanic, sixteen candles, captain corelli's mandolin, daredevil, stepmom, pretty woman, the first wives club, finding nemo, liar liar, tomb raider, THe Italian Job, !!!!, and of course casper the friendly ghost! That's probably more than 10. better not forget Breakfast club! i love the 80s.
Your rolemodel and why: eeeeek. It could be Oprah, lol, because she had all these problems in her life as a young person, but ended up being one of the most successful single women in the world and she's so giving.
What do you believe in: myself.
What dont you believe in: hard question. I can't think of anything off the top of my head. Oh now I remember, I don't think that wolves and sea creatures such as that shamu thing are related (killer whale). they told us they might be in Summer Bio.
Favorite Artist: Maroon 5, the Black Eyed Peas, and Ashlee Simpson CD's have been playing for me nonstop. And I like Ryan Cabrera's single,, this chick IMed me all the songs but since I am a dumbshit I can't find where I saved it.
Favorite Article of Clothing you own: I AM A SHOPAHOLIC. I LOVE CLOTHESSSSS i can't possibly pick a favorite. What is overabused in my closet, though? My first pair of seven jeans which i bought like last summer i wore those way to much but no matter how many pairs i buy they don't look as good as the first one. And I'm also really fond of this brown blazer and turquoise juicy dress I purchased not to long ago.
At Least three pictures: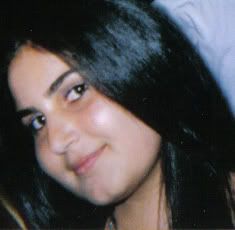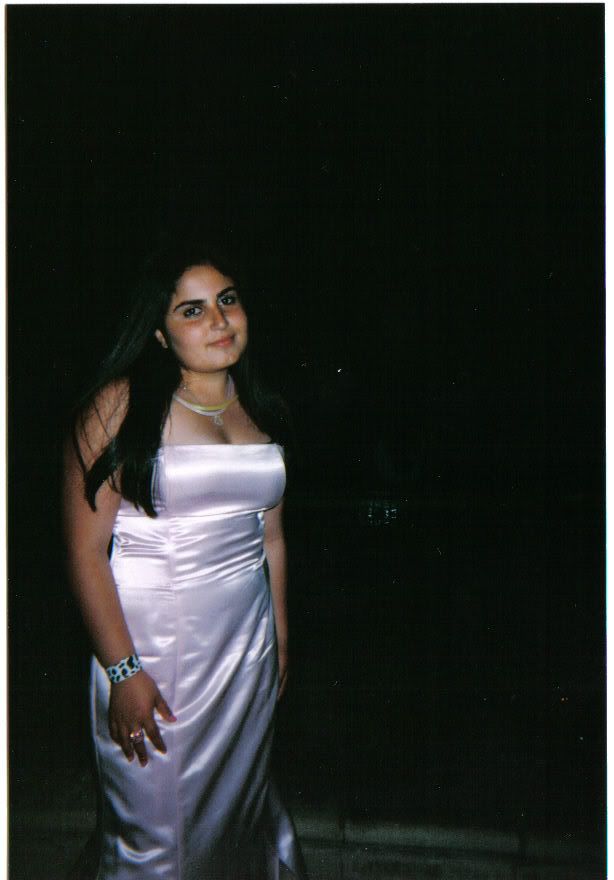 Sorry If the pictures are too big. And I need to scan some more recent ones, these are from 8 grade graduation.