Application Four

Basics
Name: Amanda
Age: 19
Sex: Female
Location: Walled Lake/Ann Arbor, Michigan

Favorites
Colors: Purple, Orange
Stores: Urban Outfitters, Nordstrom, Abercrombie, Victoria's Secret
Books: The Thornbirds, The Lovely Bones, The Pact, all John Grisham books
Movies: Blow, Blue Crush, How to Lose a Guy in 10 Days, Under the Tuscan Sun, 50 First Dates, Mr. and Mrs. Smith
Bands/Singers: Billy Joel, Queen, Air Supply, Journey, Styx, Bob Marley, Jimmy Buffett, Rascal Flatts, 50 Cent
Flavor ice cream: Peanut Butter and Chocolate from Baskin Robins (my sister works there and always gets me free ice cream :) )

Least Favorites
Colors: Brown- it is just so blahhh
Stores: Hot Topic- the people there are always mean, Home Depot
Books: The Yanomamo (an ethnography I had to read for Anthro last semester- TERRIBLE)
Movies: Intolerable Cruelty (it really was), Spanglish, Le Divorce
Bands/Singers: As you can tell, I pretty much like everything. I'm not really big into hard rock. So whatever bands those are.
Flavor ice cream: Vanilla- too boring

Random
Education: I am going to be a sophomore at the University of Michigan in the fall
Interests/Hobbies: Reading, writing, law, playing hockey, swimming, tanning, partying, having fun, shopping
Tatoos/Piercings(if any): I have double piercings in my ears and my tongue pierced
Where do you see yourself in 5 years?: Attending law school in New York City and hopefully dating someone I truly love
Current Major (or if in h.s., Favorite Subject): Sociology with an emphasis on Criminology
Do you have a significant other?: Sadly, no. I've been single for WAAAAAY too long.
Describe yourself in 3 sentences: I'm tall and very shy around people I do not know. I am a very passionate person in all areas of life- love, family, friends and about my future goals. I love to have fun, if you I don't enjoy myself while I'm doing something I do not see the point in doing it.

Either/Or
pink/green: Pink.
mountains/beach: The beach. I love the ocean, sand and sun.
sun/moon: It's a hard choice. I love the sunshine during the day when you are outside, but I also love those warm nights under the moon. I guess if I have to choose, the sun.
summer/winter/fall/spring: Fall. I love when it starts to get cool and it has that crisp smell.
wealth/fame: Fame. I'd love for everyone to know me. It sounds cocky, I just think it would be cool to know that a lot of people respect what you do.

Preference
Pronounced "carmel" or "caramel"?: Caramel
Awesome job with crappy pay or crappy job with awesome pay?: Awesome job with crappy pay. You have to enjoy yourself.
When you "have it your way", what do you put on your burger?: American cheese, grilled onion and guacamole
Sports or potato chips?: Sports!
Unhappy and rich or happy and poor?: Happy and poor.

Opinion
Gangs: I think they are bad and dangerous. Gangs cause a lot of deaths, injuries and permanent damage. They also incourage drug use and ruin neighborhoods. Although, I do see my people without any family support system would join a gang to feel like they belong to someone/something. The police should try harder to get bangers off the streets and into shelters/group homes where they can beome part of a family without the violence and drugs.
Abortion: I am really torn about this. I really don't think anyone can make this decision until they are actually in the position where they NEED to make it. I myself, would try to have the baby and at least give it up for adoption if I could not keep it. I realize this is not appropriate for all people. I just think people should wait to have sex until they can deal with consequences...and not use abortion as a form of birth control.
Animal Cruelty: Animal cruelty is terrible. Animals have feelings too and should be treated to the same standards as humans. End of story. There is no way to justify cruelty to animals.
War in Iraq: When the war in Iraq started I was a firm supporter of it and George W. Bush. I think it is incredible the freedom we have allowed these people to have and that is amazing that we caught Saddam Hussein. But now that Dick Cheney said it may take up to 12 years for it to be over, I find it a bit ridiculous. I don't want 12 years of my tax dollars going to clean up some mess...bring our boys home. We got the job done.
Cloning: I don't believe we should directly clone humans. But I support stem cell research in order to find cures for diseases such as Parkinson's disease and diabetes.

Where did you hear about us? In a community I am already in.
Promote this community to 3 places and provide the links: <url="http://www.livejournal.com/users/jazzyfizzle08/5539.html?view=7587#t7587> <url="http://www.livejournal.com/community/very_fetch/264233.html#cutid1> <url="http://www.livejournal.com/users/secondarylaugh/282.html?view=193818#t193818>
Just browsing around, what 3 members/mods do you like the best and why?: xpassionfusionx is REALLY pretty and has amazing hair, perfect_angel13 has an amazing icon (I love it) and looks hot in glasses (I wear glasses too sometimes...), and last but not least xlashl3y89lx is BEAUTIFUL!! Sorry it was based mostly on looks, but that is all I have to go on right now. I'm sure all you girls are incredible!
Three (3) things you like/dislike/think we need to change about the community, or a suggestion: I really don't have any complaints or suggestions. This looks by far the most organized and put together community I have applied to. Also you have a lot of activity, which is awesome!
What Banner would you like to have if you get accepted?:

Vote, Promote, and Participate!
Post 3-5 Pictures of yourself:

I'm on the right- in the orange.



On the right again.



In the middle.



On the left.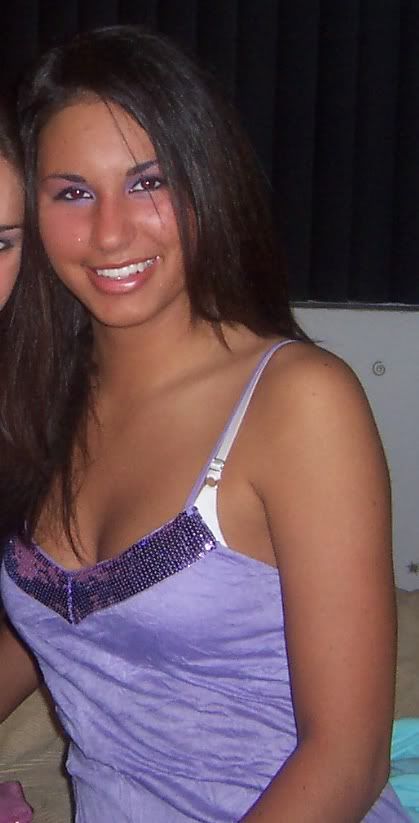 200x200 or bigger Picture for members page: The one in the purple shirt above.