Basic Information

1. Name: Anna
2. Date of birth: November 29, 1987
3. Location: Albert Lea, Minnesota
4. Sex: female
5. Do you have a significant other? I do not. someday, however, I am going to marry my best friend. this is the two of us at Hard Rock Cafe in DC this summer.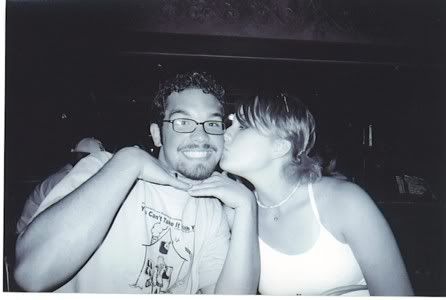 we make the best pretend couple ever.


Favorites (List as many as possible)

6. Bands/Artists: (because I'm fucking lazy, I stole them out of my userinfo, therefore they're in alphabetical order. sue me.) 2ge+her, Alkaline Trio, Aquabats, Barry Manilow, Ben Folds, Ben Kweller, Bright Eyes, Cher, Count the Stars, Desaparecidos, Finch, Hey Mercedes, Hot Rod Circuit, Josh Groban, Kitcar, Less than Jake, Mars Volta, Modest Mouse, Pedro the Lion, Picture Perfect Paris, Reel Big Fish, Saves the Day, Styx, Taking Back Sunday, The Broadways, The Cure, The Distillers, The Get Up Kids, The Juliana Theory, The Queers, The Smiths, The Used, Tora! Tora! Torrance!, Tsunami Bomb, Weezer, Wheatus, Vroom ........damn.
7. Movies: West Side Story, Rocky Horror, Out Cold, The Little Mermaid, Wuthering Heights (1939), Newsies, etc.
8. Books/Authors: John Grisham books, George Carlin, The A-Z Encyclopedia of Serial Killers, true crime, etc.
9. Magazines: Entertainment Weekly, Rolling Stone


Et cetera

10. Captain is sexy.
11. What is the best halloween costume you've ever had? My mom used to sew the best Halloween costumes, my brothers and I would trick-or-treat in theme and style. my favorite was the year we went as Aladdin, Jasmine and Abu [the monkey] from Aladdin.
12. What did you eat for breakfast this morning? a piece of whole-wheat toast with peanut butter.
13. What do you want to be when you grow up? an actress [preferably stage over movies, but either or] or a music teacher
14. How do you like your eggs? scrambled with some shredded cheese thrown in there, maybe some peapods or spinach
15. Draw a [small] picture of yourself in paint. haha this is the most original thing I've ever seen in an application. props.


I never realized just how much I suck at computer drawing. my apologies.
16. What is the most embarrassing CD you own? *N Sync. god, they were cool. my friend Annie (
hurleygirlie09) and I used to learn their choreography and bust it out at junior high dances.
17. Notebooks: College rule or wide rule? wide. I write big.
18. What are some good lyrics? one of my favorite lyrics at the moment is "to make your eyes catch fire the way they should, the way the blue could pull me in, if they only could, if they only could, at least I'd lose this sense of sensing something else that hides away from me and you, there're worlds to part, with aching looks and breaking hearts" (oops, that's long) from "A Letter to Elise" by The Cure
19. Are you conservative/liberal/other? liberal, but damned if I'll let you believe I'm another one of those "liberal Bush-hating conformity is the new non-conformity" fuckwits. I have reasons to back my opinions. go ahead and ask me.
20. Name some things that you really hate. enclosed spaces (I'm quite claustrophobic), being bored, being rejected.. and stuff.

Pictures (At least four)Alright, so my hair color changes just about every week or so. Sorry. these are in order from most recent to.. so on.
and I'm a huge camwhore, so this is about 50 pictures..

last Wednesday--the first since I re-dyed my hair. (I'm a natural brunette, but I love the red, and was blonde for awhile)


me and my friend Garrison (
buddy_g) being really, really attractive:


me and Carl attempting to be sexy at this really fancy restaurant: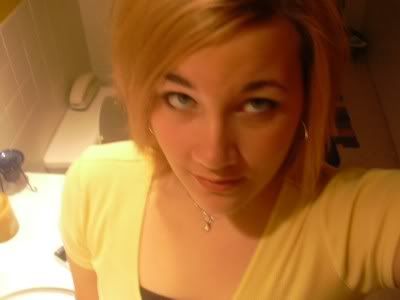 looking pissed on Thanksgiving: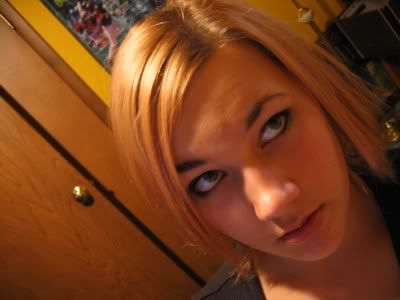 I was sort of a pirate this Halloween (I have a mild obsession with pirates):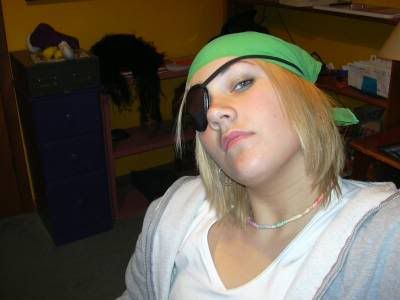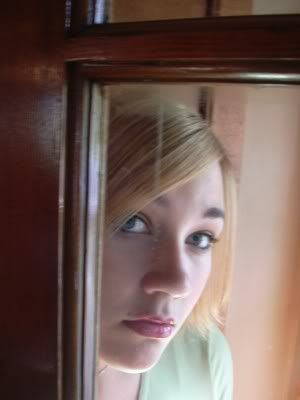 so this one day, I curled my hair all cute and stuff. And then we didn't have school because of flooding. I was pissed.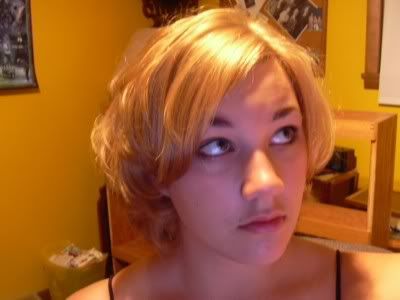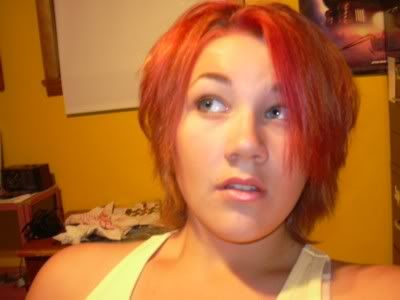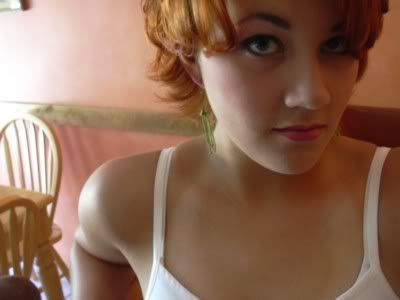 uh oh, we're getting back to the days of short hair now: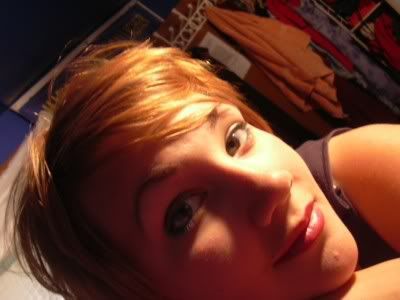 I couldn't resist a brown-haired picture, I guess. July 2004, on the ferry to Ellis Island. this is my soulmate, Eric. (
thorpedopunk