Brighton Action Targets Council Leaders To Win Support For Full Sewage Treatment
Brighton and Hove City Council confirm their campaign support whilst East Sussex County Council give us the cold shoulder.
Campaigners from Surfers Against Sewage (SAS) were in Brighton yesterday urging Council leaders to bathe in secondary level treated sewage water in an attempt to get the local authorities behind a policy of treating sewage properly before it's discharged to sea off Brighton.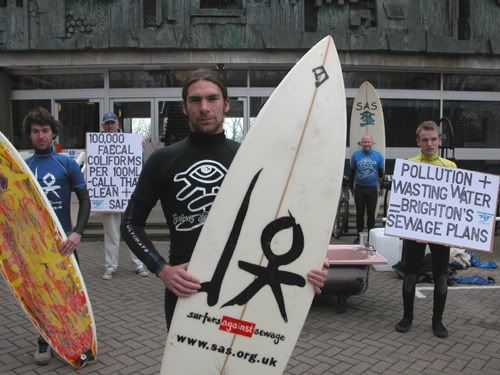 Armed with banners and a bathtub of nasty looking secondary level sewage treated water a group of SAS campaigners arrived outside the offices of Brighton and Hove City Council before moving on to East Sussex County Council in Lewes. The bath tub was there to show what Brighton's bathing water will be like if Southern Water's £200 million proposal for a 'middle of the road' sewage treatment plant for Brighton is granted. Not particularly clean and not particularly safe. We were there to get 'on the record' the local councils' stance on whether they were prepared to support full treatment.
East Sussex County Council and Brighton and Hove City Council are the two planning authorities responsible for determining the principal elements of the Peacehaven sited planning application, which is expected imminently from Southern Water. SAS believes they should only support a planning application that includes full sewage treatment from the start.
The current proposal allows only for sewage from Brighton's 250,000 residents to be treated to secondary level – that's an effluent that would still allow for 100,000 faecal coliforms/100ml and so plenty of opportunity for nasty bugs and viruses to latch on to the unwary surfer, kitesurfer or swimmer. SAS has spent many years persuading both local authorities, Government and water companies to invest in treating sewage to a tertiary (full) level which can reduce the bacterial loading to just 35 faecal coliforms/100ml and gives greater confidence to the recreational water user or day tripper that the water is clean and safe. By choosing not to invest in full sewage treatment it will allow traditional seaside resorts like Newquay, Scarborough, Weymouth, Swanage, Poole and Western-super-mare who treat sewage properly before discharge to sea to be more attractive resorts to visit for holidaymakers, day-trippers and watersport users in the future.
Not only is the level of sewage treatment to fall short of current expectations but also Southern Water's proposal is likely to cost the region dearly as it wastes water rather than reuses it. At a time when the region already suffers water shortages and with more uncertainty over the availability of water from climate change predictions, a fully treated sewage plant would allow for treated effluent to be reused and would help offset this.
Whilst the issue of 'treatment level' is not deemed a material planning concern it is should be of very great concern for Brighton's council leaders, residents, water users, businesses, hoteliers and tourist officials as Brighton's reputation as a hip, alternative, environmentally conscious, right on, tourist friendly city could soon be eclipsed by less hip resorts that view clean and safe water as the foundation from which they are building a healthy, clean and sustainable environment upon.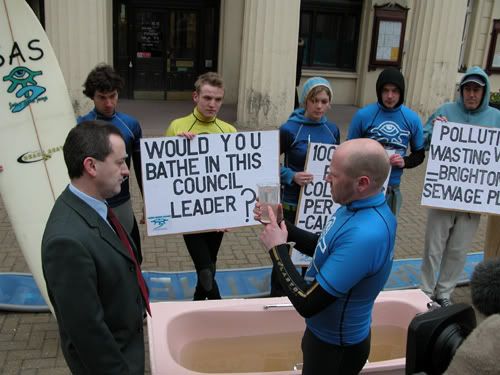 Whilst no councillors took part in the bathtub plunge, SAS were delighted that Brighton and Hove City Council have now openly confirmed their support for our call for full sewage treatment as local councillor Steve Burgess confirmed with us at the action outside Brighton Town Hall. However we are still none the wiser over East Sussex's policy as they refused to send anyone out to see us. Pulling the plug on the day's action we were forced to pour the secondary level treated sewage water over their Lewes office's front steps. Of course if the water had been fully treated we would have been able to reuse it!
Small steps and all that, she says.
I'm happier...We're going places, I tell you.