DYZTORTED ENT + RITUAL FILTH + VAMPIREFREAKS + AUDIOLUST PRESENT: Friday, May 21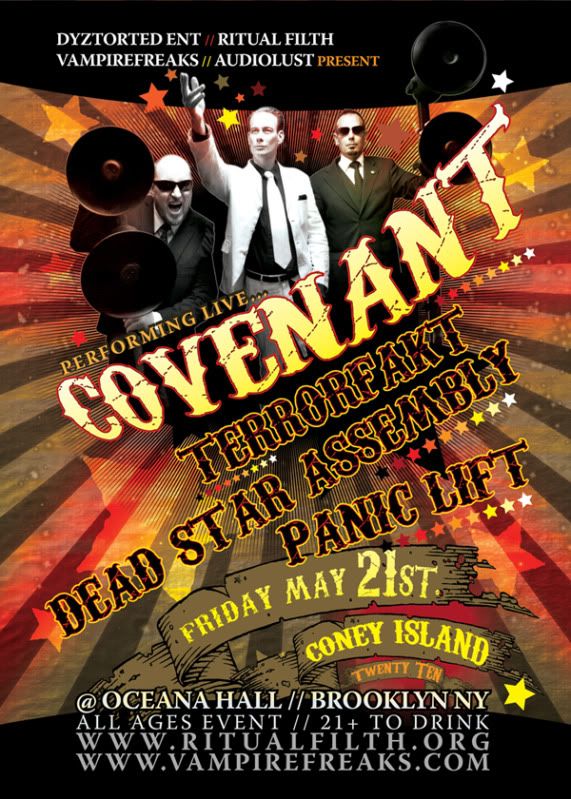 COVENANT
(Metropolis Records, Sweden)
http://covenant.se/
http://vampirefreaks.com/covenant
TERRORFAKT
(Metropolis Records, NYC)
http://terrorfakt.com/
http://vampirefreaks.com/terrorfakt
PANIC LIFT
(Noitekk, NJ)
http://paniclift.com/
http://vampirefreaks.com/paniclift
DEADSTAR ASSEMBLY
(Somatic, Florida)
http://deadstar.com/
http://vampirefreaks.com/deadstarassembly
@ Oceana Hall located in Brighton Beach/Coney Island in Brooklyn, New York.
This is an
ALL AGES
show. 21+ to drink.
Tickets are
$25 in advance and $35 At the door
.
2 options for VIP area limited sales.1st Group Rate
(Limit 6 tables first come first serve)
$350 for 6 people
. VIP access to balcony.
they get a Table with top shelf liquor bottle w/ mixtures.
Bottle Choices. Vodka, Tequila, Whiskey or 2 bottles of Wine. (red or white)
Additional bottle $125 each w/ mixtures
2nd individual rate
$50 for 1 person
They get VIP access to balcony and 2 drink tickets. Well drinks only.
option to add a bottle for $125 each w/ mixtures
DJs for the evening are:
Mighty Mike Saga, Dyztort, Audiophile, Jet, and Solitude.
For more information, visit either site:
http://www.ritualfilth.org
http://www.vampirefreaks.com
http://www.oceanahall.com
Purchase Tickets Online:
General Admission Ticket - $25:
http://fuckthemainstream.com/product.php?pid=1131
VIP Tickets:
VIP TICKET with balcony access and 2 free drinks - $50
https://fuckthemainstream.com/product.php?pid=657
VIP TABLE for 6 people - reserved table on balcony plus 1 free bottle of alcohol - $350
https://fuckthemainstream.com/product.php?pid=175
Purchase Tickets In Person:
VampireFreaks Store
189 Avenue A
New York, NY 10009
http://vampirefreaks.com/store
This event made possible by:
DJ Dyztort (Dyztorted Entertainment)
Eric Delord (Ritual Filth) -
http://twitter.com/ericdelord
Jet (VampireFreaks) -
http://Vampirefreaks.com
Slava Fisson (Audiolust production) -
http://Audiolust.com