This is my first try at a fanmix, so I hope its ok. Rodney is by far my favouite character and so it is no real surprise that I made a mix for him ;) I'm not sure if I should be posting this while I'm so tired but meh... let me know if I've made any huge errors.

EDIT: - 16/11/05 - Links Updated!



Front Cover: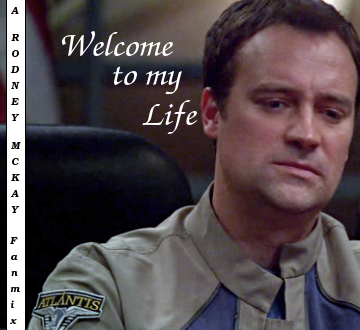 Back Cover: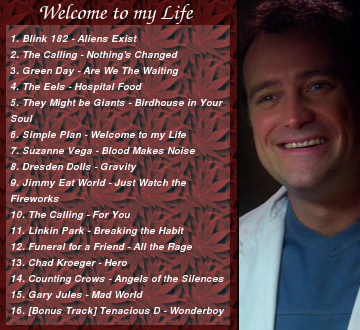 Links are currently from You Send It, let me know if they run out. I'm working on moving them somewhere more permanet, hang with me ;)



01. Aliens Exist – Blink 182
I know the CIA would say // What you hear is all hearsay
Rodney, Pre-Atlantis, in his early childhood, around the bomb incident. Meeting the CIA for the first time, believing in aliens, being different from other kids and not realising just how important aliens will be in his future.

02. Nothing's Changed – The Calling
And I can see that nothing's changed at all // Though we falter // we don't have to fall
Rodney, Pre-Atlantis. Thinking about his family, in parts his sister and at other times his parents. A defiant song as he tries to accept that they didn't have faith in him, but he has faith in himself.

03. Are We The Waiting – Green Day
This dirty town was burning down in my dreams // Lost and found city bound in my dreams
Rodney thinking about the Atlantis they found and how it wasn't what they expecting. At the same time, its a song for AU Rodney, and the Atlantis they found. A song basically to Atlantis.

EDIT: NEW LINK - this one should work.04. Hospital Food – The Eels
Hospital food // Want some hospital food // Hospital food // Delicious hospital food
Rodney's first stay in the infirmary after being hurt. Waiting for some hospital food with glee, rather to his friends surprise.

05. Birdhouse In Your Soul – They Might Be Giants
Blue canary in the outlet by the light switch // Who watches over you // Make a little birdhouse in your soul
Rodney is a mass of contradictions, a friend and not a friend. He's also the brains who saves the day.

06. Welcome to my Life – Simple Plan
Are you sick of everyone around? // With their big fake smiles and stupid lies
There is more to Rodney than just a large brain and even larger brain, as he explains.

07. Blood Makes Noise – Suzanne Vega
Denies the memory of the acts // So just forget it Doc.
Rodney talks to Kate about recent events, such as the nano virus.

08. Gravity – Dresden Dolls
Hate to break it to you but its out of my control // Forces go to work while we are sleeping
Not even Rodney can control everything.

09. Just Watch the Fireworks – Jimmy Eat World
Here you can be anything // Anything that scares you // I think that scares you
A moment of quiet for Rodney, as he looks though some Ancient technology.

10. For You – The Calling
Someone's changed me // Something's saved me // And this is who I am
Rodney comes to understand that he's changed during his time in Atlantis.

11. Breaking the Habit – Linkin Park
And say what I don't mean // I don't know how I got this way // I know it's not alright
Still trying to come to terms with his change, he finds out the Wraith are heading for Atlantis.

12. All the Rage – Funeral for a Friend
I'm sick and I'm tired of always being the good guy
Another death of someone Rodney knew and liked, and he's close to snapping.

13. Hero – Chad Kroeger (feat. Josey Scott)
And they say // That a hero could save us // I'm not gonna stand here and wait
Rodney's not the hero, he knows that. He's still going to try his best.

14. Angels of the Silences – Counting Crows
Well I guess you left me with some feathers in my hand // Did it make it any easier to leave me where I stand?
In the moment when John is flying towards the Wraith ships, on his suicide run, Rodney stands there and imagines a world where they defeat the Wraith...

15. Mad World – Gary Jules
All around me are familiar faces // Worn out places, worn out faces
The Wraith are gone, Ford is gone and everyone is tired, Rodney most of all.

16. [Bonus Track] Wonderboy – Tenacious D
Now it's time for me to tell you about Young Nastyman // arch rival and nemesis of Wonderboy
Rodney is Wonderboy. John, Young Nastyman. Need I say more?