ToyBox are an upcoming UK band, who are influenced by Jack Off Jill and Daisy Chainsaw. I'm friends with Peaches (Alice Acidosis - bass/vocals) and Darren (Cinderella Swallows - guitars)... and the more I promote and get more people to like Toybox the more drinks they buy me... :D

They are still practising as of yet, but will start gigging the Northampton, Milton Keynes, Cambridge areas and such like... but will be persuaded to venture out of their home boundaries (the lazy fuckers) with the more people who convince them to gig near to where they live (obviously in the UK)...

Read more under the cut!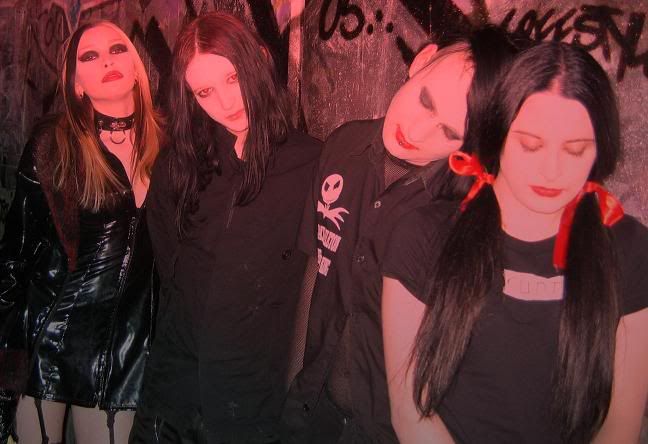 From left to right: Nurse KKK (drums), Cinderella Swallows (guitars), Roberta Rimjob (guitars) and Alice Acidosis (vocals, bass)...

And just in case any of you get confuzzled, Nurse KKK IS the only female in this band. :) The other three love crossdressing and talking about hair and make-up.. :)

www.the-toy-box.tk

I would love it if you went there to listen to their two (very ROUGH, but you get the idea) mp3s, and if you signed up on the forum (only if you like them, obviously) and posted an introduction on Nurse KKK's thread provided, and cleary stated I introduced you to them and the site...

*wants free drinks* and *will love you forever*

:P Sorry, I've gone a bit crazy today.