the normal stuff::

Name:Mairin
Nicknames:Mairzy.Stinky Cheese
Age:17
Sexuality:bi...I guess,but not cause it's crazy stupid trendy
Ethnicity:Irish/belgian

favorites::

Five favorite bands/singers:Dir en Grey,Malice Mizer,VAST,Sopor Aeternus,Neuroticfish
Five favorite books:The Lion the Witch and the Wardrobe,Disco Bloodbath,1984,Battle Royale,Paradise Kiss(mangas count right?)
Five favorite movies:All John Waters movies,Blue Velvet,Eraserhead,Vampire Journals,The Boondock Saints
How do you like your eggs?:I don't really like eggs anymore,but when I do eat them,they are scrambled and I put cheese in them and it melts to a creamy cheesiness and its so scrumptious
Do you enjoy Sushi?:I've never ate sushi

stuff::

If Uncle Rico showed up at your door, what would you do?Well I'd be like UNCLE RICO,Where the crap have you been,give my my damn money,then tie him to a chair and smack him around like I was an italian mob boss.
What are your feelings on Bear and the Big Blue House:Well nothing on Disney is better than the Wiggles,but the little mouse is cute.
What's your favorite way of spending a Friday night?:partying with my closets friends.
Boybands are..:Well I like N'Sync and BSB,and yeah...sucka!
At what age did you stop watching cartoons?:I still watch them,I don't ever want to grow up.
When did you learn to tie your shoes?:I don't remember,it was too long ago.
How do you feel about the potato famine in Trilonkostan?:I like potatoes...

WORD ASSOCIATION::

Bondage:lame pants
LOLZ:little kids with stupid internet lingo
BananaRama:lets sing
Glockenschpeil:Bleistiftispitzer?
Iceland:Pretty country
Emo:whiney kids who are just like goths,but less black
Glamour:Ce moi!
Sprecken:die Deutch
Eurovisoin:whoever made this app cant spell,or didnt notice their mistakes
HOLLAAAAA!!:Buene Nouches(sp?)
Gravy:My friend Ernie drinks gravy.
Elvis:aint nothing but a hounddog?
Rooster:cock a doodle doo
Grr:RAWR

Your opinion of Hot Topic:I don't shop there,their clothes are over priced and made like crap,and it's not unique at all because everyone shops there,but I respect the kids who do shop there because a lot of them don't know anybetter.
Which iPod commercial jingle is better, U2 or Steriogram?who knows I don't watch TV
If someone said to you, "I'm Craig Daaaaavid, a garage Sensaaaaaaation." What would you do?:I'd say "BIATCH,let's ge..."and run.
Is pop music still rad?:No,but it was when the spice girls were around
When was the last time someone called you weird, randomly:everyday
Describe your social life:I'm not in school anymore,so I only see like 3 close people regularly and then other friends every once in a while.
What scenedo you think you fall into?:I don't fall into any scene,I change my look every day.

Post THREE pictures of yourself: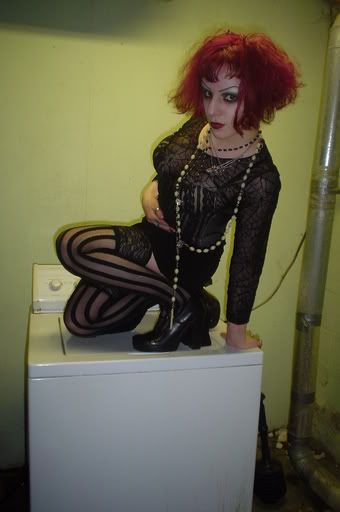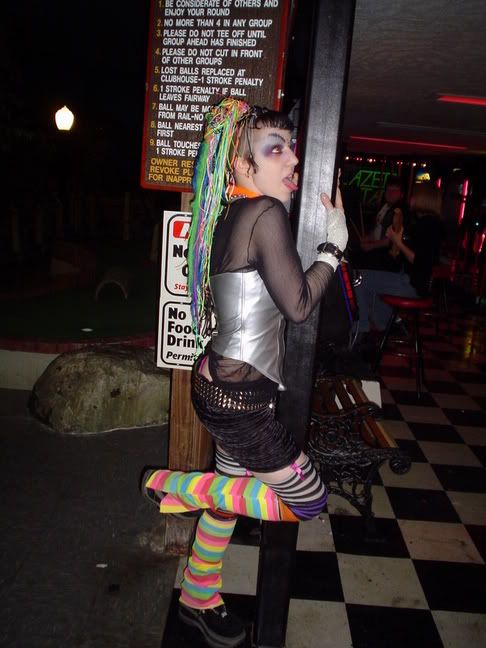 Post a link to advertise our community in a public post somewhere on LJ and give us the link. http://www.livejournal.com/users/fakecyborggods

Do you play Neopets?:
not anymore,I used to.
Say something COMPLETELY random:
You can't play god fluffy!