Because I am a bit obsessed with the tattoo......
Done in charcoal and dedicated to my Aussie pals. Especially
becisvolatile who puts in into her fic as much as possible, and has Sara explore it....intimately. Right on.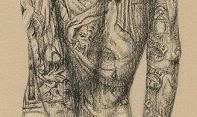 After it loads it gets smaller (well, it does on my comp), you may need to enlarge it again in the bottom right corner.
I hope everyone is enjoying the weekend!