I know I asked you guys fairly recently to try and come up with LDR songs, but I've come up with a mini playlist. I know that these songs aren't everyone's favorites but this is the best I could do with a total of 224 songs on my IPOD. Not all of these are traditionally about long distance relationships, but anyway.

Here they are, plus a few selected lyrics from each as well as an explination!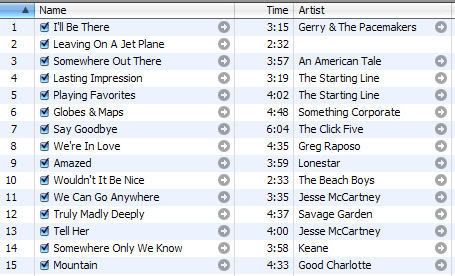 1) I'll Be There

Lyrics

: "I'll miss you, and in my dreams I'll kiss you"

Reasoning

: It isn't about an LDR, but a breakup, but hearing lyrics as those and similar lyrics in the song makes my heart melt. I found this song by accidently, going through random CDs we owned. It was my mother's, and the name was appealing, so I listened. I think we all know what missing someone can feel like.

2) Leaving On A Jet Plane

Lyrics

: "Dream about the days to come//when I won't have to leave alone//about the times that I won't have to say//kiss me and smile for me//tell me that you'll wait for me//hold me like you'll never let me go//cause I'm leaving on a jet plane//don't know when I'll be back again"

Reasoning

: I can remember our last hug before Matt got on the plane to go back home, and my heart broke up into the tiniest little pieces. I didn't want to let him go and it hurt a lot. I know a lot of you don't know the next time you'll see your SOs, and it is so difficult to be far from each other.

3) Somewhere Out There

Lyrics

: "And even though I know how very far apart we are, it helps to think we might be wishing on the same bright star//and when the night wind starts to sing a lonesome lullaby, it helps to think we're sleeping underneath the same big sky"

Reasoning

: Maybe it's from a childish cartoon movie, but it accentuates the positive about being far apart instead of focusing on the negatives. Sometimes we need to be reminded that we ARE seeing the same stars at night, seeing the same moon, the same sun, and knowing that we're closer than we think.

4) Lasting Impression

Lyrics

: "I've been sleeping with the lights on so if I wake in the night, your picture is clearly in sight"

Reasoning

: I don't know about you, but I keep pictures of my boyfriend and I on my nightstand, and others are plastered to my walls. Sometimes you just need that reminder that he's always there, physically or otherwise.

5) Playing Favorites

Lyrics

: "Wait for me to move out west, it's okay if you don't//I hope you know you're my favorite thing about the west coast//I wish I stayed, I hope you wait//So here I am counting down the days till California comes"

Reasoning

: My baby is from the west coast and even though I don't know who will end up moving where in the future, I am very much counting down the days until I am there in Washington to be with him once again. I miss him so desperately.

6) Globes and Maps

Lyrics

: "I can't take this anymore cause I know someday I'll see you walk out that door"

Reasoning

: I remember my last few days with Matt before he went home and how hard it was to take knowing that his visit wasn't a permanent one. I couldn't help but cry when I thought about it knowing that it wouldn't be long before he was gone. It's STILL hard to take.

7) Say Goodbye (It MIGHT be called Say Goodnight, I really don't know because I lost the CD haha)

Lyrics

: "We're in a spell that never ends//the empty hourglass wore me thin//so let the phone do it's work//your voice is heaven, but it hurts//your words are memories, but they burn"

Reasoning

: It seems. until the fateful day when we will be together for good, that we're in some sick endless sort of spell. We visit each other, the visit ends. We visit each other, the visit ends. It's painful having to go back to phone calls and not having your SOs face in view. At the same time, of course, we need it. My relationship is a huge part of me and I know he and I can pull through this repetivity.

8) We're In Love - Greg Raposo

Lyrics

: "Distance can't stand in our way//cause I'll just miss you and love you more each day//and as I feel you so close in my heart//it makes it impossible to be apart//I close my eyes and you're by my side//staring at me with those beautiful eyes//I can always be with you in my mind"

Reasoning

: A little bubble-gum poppy and cliche? Sure. True? Most definitely. I know we're together even if we aren't physically, just because I've given him my heart. I'm guilty of playing out scenes in my mind of us together.

9) Amazed

Lyrics

: "I've never been this close to anyone, or anything//I can hear your thoughts, I can see your dreams"

Reasoning

: It has nothing to do with distance, but this is ourrrrr song so it is extremely important to my LDR! The day he went home, we danced to this song, all alone.

10) Wouldn't It Be Nice

Lyrics

: "Wouldn't it be nice if we could wake up in the morning when the day is new//and after having spent the day together, hold each other close the whole night through"

Reasoning

: Well, wouldn't it be nice if we WERE older and had the ability to do everything we dream of with our SO? I don't think any of us can wait to acheive everything this song talks about.

11) We Can Go Anywhere

Lyrics

: "Come on, we're leaving everything behind//you know that sun is shining//we'll keep driving doesn't matter where//cause we got that open highway//leading our way//as long as you're there//we can go anywhere"

Reasoning

: So I suck at making song about distance on this playlist, but this one just... I just wish I had the ability to do it - give up all the troubles of this silly thing, leave everything behind, and go somewhere. anywhere. together. Someday I'm sure we will - but who wants to wait for such a thing?

12) Truly, Madly, Deeply

Lyrics

: "I wanna stand with you on a mountain//I wanna bathe with you in the sea//I wanna lay like this forever//until the sky falls down on me"

Reasoning

: I'm getting worse with lacking songs about distance, and I apologize. Again, this song (to me) represents all the wants and dreams we have that we're clearly going to complete in due time. Also, the last part of that (I wanna lay like this forever until the sky falls down on me) reminds me how it felt like numerous times during Matt's stay. I remember on our anniversary we watched the fireworks, and we laid down with each other on the grass as we watched these freaking beautiful blasts of light illuminate the sky. I didn't want to leave that spot. I wanted to lay there and be totally bewitched by the beauty of it all.

13) Tell Her

Lyrics

: "I know how it feels to wake up without her//Laying here all alone, just thinking about her//I can't believe her hold on me//it's something indescribable//I know she knows, but won't you please//If you see my girl, just tell her I miss her smile"

Reasoning

: Another bubble-gummy song, but I DO miss his smile, dammit! I miss him more than anyone who isn't in a similar situation can comprehend.

14) Somewhere Only We Know

Lyrics

: "Oh simple thing, where have you gone?//I'm getting old and I need something to rely on"

Reasoning

: I doubt this song means as much to other people as it does to me, but I first heard this song during the preview for the movie "The Lake House". It simply means a lot to my LDR because that was my first date with Matty :)

15) Mountain

Lyrics

: "Tell me what you want, cause I would give you anything//tell me what you need and I'll go get it//I'd give up all these dreams to have you in my arms right now//I'd give up everything and I'd forget it"

Reasoning

: I'd do so much just to be able to see him again and not have to wait another eight months. He makes me happier than anything, anything at all, and I miss having him here. I'd do so much for him, because he's not just my boyfriend - but my best friend


So there's my list. If any of you have a list, feel free to post it.