we will be going from this to this:





this is a simple beginners tutorial using photoshop 7 for making black and white icons.

1 Start with the original image (screens from
beizy and you can get them here) and desaturate it.

image>adjustments>desaturate this makes the image black and white (but I'm sure you knew that already).

2 Sharpen the image.

filter>sharpen (if the image happens to come out too pixelated you may edit>fade sharpen till you get the look you want)

3 Resize the image (in this case its resized to about 175 x 99 but yours may differ depending on what image you use)

image>image size

this is what we have so far: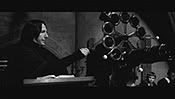 4 Make a new 100x100 canvas (with a black background) and drag the image of Snape (or whatever you may be working with) onto it and postion it where you would like it to be on your canvas.





5 now the fun part, using brushes. For this particular icon as well as the other b&w icons I've made in this post I have used the Grungebox Icon Brushes by
sir (but I encourage you to experiment with other brushes).
Create a new layer over top of the snape image and choose black (of course) off of your color palette.
Choose some brushes that look intersting to you and start to cover the outer edges of your image (snape) to make it look like a seamless part of your black background.

now it looks something like this:



the brushes overtop of the snape image look like this:


(so you can get an idea what I did with the brushes)

6 Adding text: "Wicked" is written in sylfaen 12pt at 25% opacity and put it wherever it suits your fancy.

We now have this:




7 Create a new layer so you can add tiny text decoration below your text (the one used for this snape icon was by
terra_katta )

this is what we have:




8 Create a new layer so we can add one more decoration/text brush for good measure. The final brush used is from the dec. tiny text 2 set by
amethystia100.

almost done:




9 Final Step! Use this gradient (again its not labeled, check credits):



and set it to overlay for the slight bit of colour.
save and share!



ta-da!

Please play around with it and if you make something inspired by this please share with me I'd love to see it!