Posted: March 12, 2009, 3:30 PM by Brad Frenette
Music, The Dead Weather, Jack White


For those who thought The White Stripes' live return on the Conan finale earlier this month meant Jack White was heading back to White Stripes full-time, think again.

Last night, at a gig in the Nashville offices of White's Third Man Records for about 150 family and friends, Jack debuted another band, his third on the go, called The Dead Weather.

White will play drums in the band, and provide vocals. The band also features Dean Ferita from Queens of the Stone Age, Jack Lawrence, who works with White in The Raconteurs, and Alison Mosshart, from The Kills, who fronts the band.

The band will release an album called Horehound in June. The album was produced by White, and recorded in three weeks earlier this year.

Attendees at the show were given a copy of the band's first single - Hang You From The Heavens, with a b-side, a cover of Gary Numan's Are Friends Electric. You can listen to snippets of the tracks here, or download both via iTunes. as of today.



http://network.nationalpost.com/np/blogs/theampersand/archive/2009/03/12/meet-jack-white-s-new-band-the-dead-weather.aspx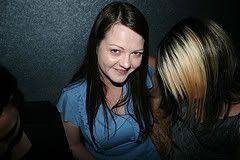 Meg in defiant blue.


Just don't forget about Meg and us Stripes fans!