dear nayte,
you have been on my mind alot lately.
any time i see a baby, i think of you.
you have taught all of us how to appreciate children.
about a month ago, me and your mom and kristi were at the store
and there was a lady infront of us...
she had a little girl with her, and the little girl was crying.
the mother kept telling the little girl to shut up and that she was stupid.
your mom stared at the lady and said "if you lose her tomorrow, you'll regret talking to her like that today."
see, you taught us all how to appreciate children.

do you remember going on the picnic?
you slept through our time at the park.
but you loved the waterfall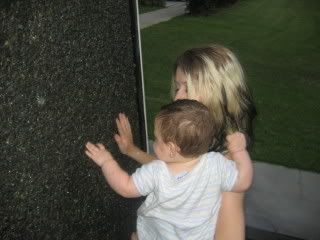 we can't go to the waterfall without thinking of you now.

i miss making silly faces at you and making you laugh.
who wouldn't miss this face.



your mom made you an account on myspace.
and for a 7 month old baby, you are pretty badass when it comes to myspace.

what she put in your about me section makes me cry every time i read it:

My name is Nathan Cole LeBlanc. I was born February 27, 2005, and died October 9, 2005. I was put here to teach people how to love, and to teach patience, and to bring people closer to eachother. I hate fighting, yelling, and crying. I was put here to bring happiness and when there is no happiness, my work is not done. I died of SIDS [sudden infant death syndrome] which is very rare and strikes without warning. The doctors dont really know why, but i know. It was my time, i did all that i was going to need to do. I was seven months old. Do you know what the number seven means in the bible? A complete work. I was done, and all i ask is for people to love more, because there is really no reason for hate. Please also, do not take for granted what you have, for it could be gone in a second. And, whoever you are, I LOVE YOU

i just want to emphasize that we haven't forgotten about you.
and we never will.