this community is pretty much dead but just in case anyone still checks it, heres a post.
soo i'm a huge loser and i had nothing to do with my time...so here:


that's where my cat and her kittens have been living. it's under the step to our deck.
sooo i took off the lattice and crawled under there on my stomach to go get them. it was wet and muddy and gross...but i got the kittens! haha.

how cute is that?

this one is my baby. i saved his life...he was choking on cat food...that i fed him. oops haha.



and then i was messing around with the cat food in the garage...lol.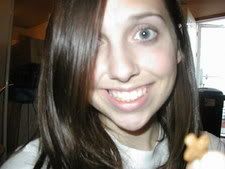 haha i'm such a nerd

sooo cat food doesn't really taste like anything...though it does have a hint of disgusting.



since i'm bored and i posted it in my other communities anyways.