So KnockturnAlley has sadly keeled over and died, but if any of you are still interested in role-playing, here's your chance! :)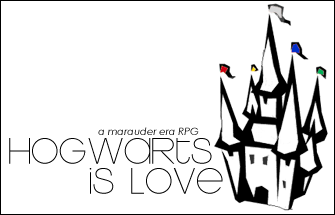 The year is 1975. The war wages. The Death Eaters attack. The Order of the Phoenix defends. The Ministry distresses. And the marauders wonder if Snape has discovered showers yet. The year is 1975. But the time is now.
On a small corner of the Great Hall window sill is etched HOGWARTS IS LOVE. Like some nonexistent person once said, your time at Hogwarts is what you make of it.
-----

Rules & Application | Student Roster | Non-student Character List
Hogwarts is Love | England is Love | Out-of-Character Community
Hogwarts is Love is a new kind of marauder era RPG. We'd like to think of it as different from the other 10^8 marauder RPGs. It is shiny and new and we are looking for EVERYONE. Yes, that means you. Hogwarts cannot possibly be populated with 5 canon characters so OCs are the life of this community. JoinJoinJoin. /subliminal message