Many positions available.

Opens Sunday, February 22, 2009.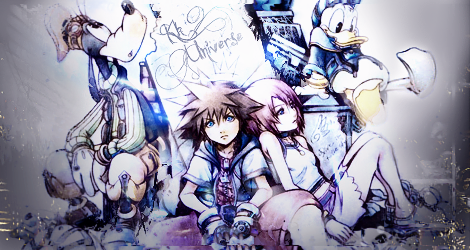 Introduction
There's a time where we come to a place that splits into two different directions.
We stand there and take a moment to breathe, feeling our surroundings, and then we realize that we have to make a choice. We look in one direction and see the darkness before us. Briefly, we sense a future that wants to draw us in with promises of power, a future where all of our desires are fit into the palm of our hands.

We look in the other direction and sense a more difficult future, yet the road beyond that path looks bright. You think for a moment. Perhaps the darkness is what you seek, or maybe you feel strong enough to travel the more difficult path.
Swallow your fears and make your decision. The future awaits you.

About
Kingdom Hearts Universe is a roleplay that takes place after the events of Kingdom Hearts II, however, all characters are alive and up for grabs. We do follow a serious plot, yet humor is encouraged. Characters from all worlds are welcome to play, as strange portals of darkness have opened up everywhere, allowing them to roam freely between the barriers. We want to have as many members as we can get, so feel free to fill out an application.
Maintainers
Kingdom Hearts Universe is currently being maintained by two individuals, one male and one female, who have both had numerous roleplaying experiences. They also happen to be moderators at KHinsider.com (Guardian Soul and Livi). We love Kingdom Hearts and look forward to playing with all of you.
Navigation
Main
|
Logs
|
OOC
Rules
|
FAQ
|
Taken Characters
|
Reservations
|
Applications
|
Mods