My second fanmix, ever, and for my favourite pairing at the moment (although also running for top position of fave pairings of all time -
Don't mess it up, TPTB!
) - the awesome BroTP that is Barney Stinson and Robin Scherbatsky!!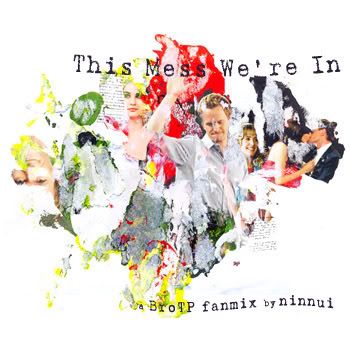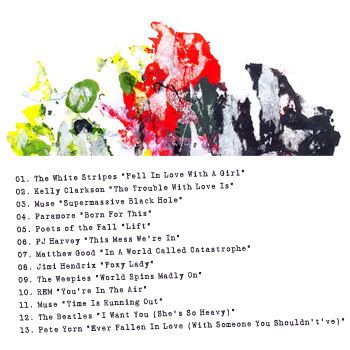 01 White Stripes // Fell In Love With A Girl
Can't think of anything to do
my left brain knows that
all love is fleeting
she's just looking for something new
and I said it once before
but it bears repeating


02 Kelly Clarkson // The Trouble With Love Is
Now I was once a fool, it's true
I played the game by all the rules
But now my world's a deeper blue
I'm sadder, but I'm wiser too
I swore I'd never love again
I swore my heart would never mend
Said love wasn't worth the pain
But then I hear it call my name


03 Muse // Supermassive Black Hole
I thought I was a fool for no-one

Oh baby I'm a fool for you 

You're the queen of the superficial 

And how long before you tell the truth


04 Paramore // Born For This
It takes acquired minds to taste, to taste, to taste this wine
You can't down it with your eyes
So we don't need the headlines
We don't need the headlines
We just want…


05 Poets Of The Fall // Lift
Like the other day
I thought you won't be coming back
I came to realize my lackluster dreams

And among the schemes
And all the tricks we try to play
Only dreams will hold their sway and defy


06 PJ Harvey // This Mess We're In
Impossible dream
And I have seen
The sunrise
Over the river
The freeway
Reminding
Of this mess we're in and
The city sun sets over me


07 Matthew Good // In A World Called Catastrophe
Remember how we started, 'cause since then, I'm a waste
Since then I'm a fool
Since then I'm a dog
In a world called catastrophe
Since then I'm a waste


08 Jimi Hendrix // Foxy Lady
You know youre a cute little heartbreaker
Foxy
You know youre a sweet little lovemaker
Foxy


09 The Weepies // World Spins Madly On
I thought of you and where you'd gone
and let the world spin madly on


10 R.E.M. // You're In The Air
I want you naked

I want you wild

I want the stars to know they win

Give me that smile

Just give it me

Just turn it on

I'm lost again


11 Muse // Time Is Running Out
I wanted freedom
Bound and restricted
I tried to give you up
But I'm addicted

Now that you know I'm trapped sense of elation
You'd never dream of
Breaking this fixation


12 The Beatles // I Want You (She's So Heavy)
I want you
I want you so bad
I want you
I want you so bad
It's driving me mad
It's driving me mad


13 Pete Yorn // Ever Fallen In Love (With Someone You Shouldn't've)
You disturb my natural emotions
You make me feel I'm dirt
And I'm hurt
And if I start a commotion
I'll only end up losing you
And that's worse

Ever fallen in love with someone?
Ever fallen in love?
In love with someone
Ever fallen in love? (Love…)
In love with someone
You shouldn't've fallen in love with


.zip | 66 MB
As an added bonus: a wallpaper, made from the artwork for the fanmix. It's simple really, lots of white space. But I like that - my desktop is overloaded enough as it is, the wallpaper doesn't have to be, too ;)


1024x768 | 1200x900 | 1280x800
If you need another size, please just ask :) Otherwise, enjoy, and do not repost without my permission!
Comments will be treasured ♥


Resources
Do you want to affiliate with
_karmageddon_? Please comment here. :)
Friend this community ♥
Current Mood:
awesome
Current Music: Matthew Good - I A World Called Catastrophe