About You---
=Name: Danae Schwartz
=Age: 13
=Location: Green Bay Wisconsin
=Gender: Female

=Tell us about yourself: I'm not the most active person but i really like soccer. I like hanging out with my friends a lot because my friends are like the best people alive! I'm not like, punk but i like bands more so then rap. But i enjoy rap. i HATE Avril. I am deathly afraid of TORNADOS! (sorry i added that, but there are some tornado warnings in wisconsin right now and i'm freaked). i can't stand people who are naggy and badger a lot. I am patheticly practicly in love. I love cats and monkeys!!

= promote to 2 people or communities: *-we want direct links-*
http://www.livejournal.com/userinfo.bml?user=antixlovexclub
http://www.livejournal.com/userinfo.bml?user=prettyladies

Post at least THREE pictures of yourself:
i only have two pictures. i'm really sorry...i hope this doesn't like effect my chance of getting in.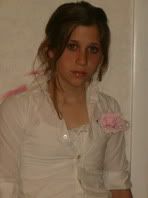 and