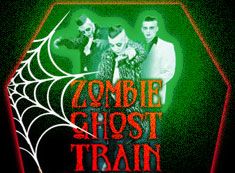 I went out to the Hollywood Rockabilly showdown last week & saw a band that totally blew me away – hope I don't come off like some crazy street team person cause I'm not, I just want to spread the word & am afraid folks who might really enjoy them might not otherwise hear about them while they are here in the US on tour!
They are an Australian psychobilly trio called
"Zombie Ghost Train"
that are currently on the road here in the states. These guys are DEFINITELY worth checking out if they play near you, if you miss them you just might kick yourself later! ZGT feature singer/guitarist Stu Arkoff, Aaron "Captain Reckless" Mol on upright bass and Azza T on drums (they also have a side project performing straight rockabilly without their makeup & calling themselves "the Bone Daddys". They have two CDs out so far, an EP called "Monster Formal Wear" and a full length album called "Glad Rags and Body Bags" that just came out this summer.
They've opened for Tiger Army and the Horrorpops in their native Australia and will be opening for Nekromantix this coming Saturday at the Glasshouse in Pomona.
I took a ton of photos I posted on my website here
Check out their official site here:
www.zombieghosttrain.com
Upcoming Tourdates:
(
Collapse
)