Rather than simply post the coloured strip, I decided to do another of my 'progress/tutorial posts' for 'Holy Hagglin', Batdroid!'

Preview of finished pic: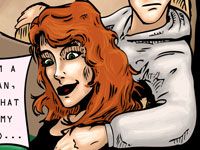 It all began with my wanting to make a strip about that amusing term 'batting for the other team'. Being a Batfan, I immediately thought of Dark Knights, leather, pretty boys, bums, and ... and I'm getting way off track.

The result? The following basic idea:
GUY: So, Harvey, you bat for the other team, huh?
HARVEY: (to Guy's girlfriend) Me Batman, you Robin?

Then it was just a matter of adding stuff.

Art-wise, this was the first draft:



Realising that the script was rather thin (and at that point, I didn't even have a good title), I felt the layout was too ... ordinary. If the text is of questionable quality, distract the reader with some eyecandy. ;)

So I looked at the sketch, thought of bats, and saw a face, of sorts. Ears, mouth, whatever. So I made a mini-sketch of a very different layout:



Clearly, I had only vague ideas of what batmugs look like, and after some research into bloodsucking bats, I refined the sketch:



My point is, it's very important to make mini (aka, thumbnail) sketches to test unorthodox layouts, before you do the big version:



Which I then inked (using a light table and sable/synthetic brushes):


Because I ink with an old brush and poor ink on crappy paper, I need to let Illustrator CS2 'scan' it through LiveTrace, thus converting it to vector art. Unfortunately, this particular strip lost something in the transfer.

Shifting over to Photoshop CS, I added an inverted border and wound up with this: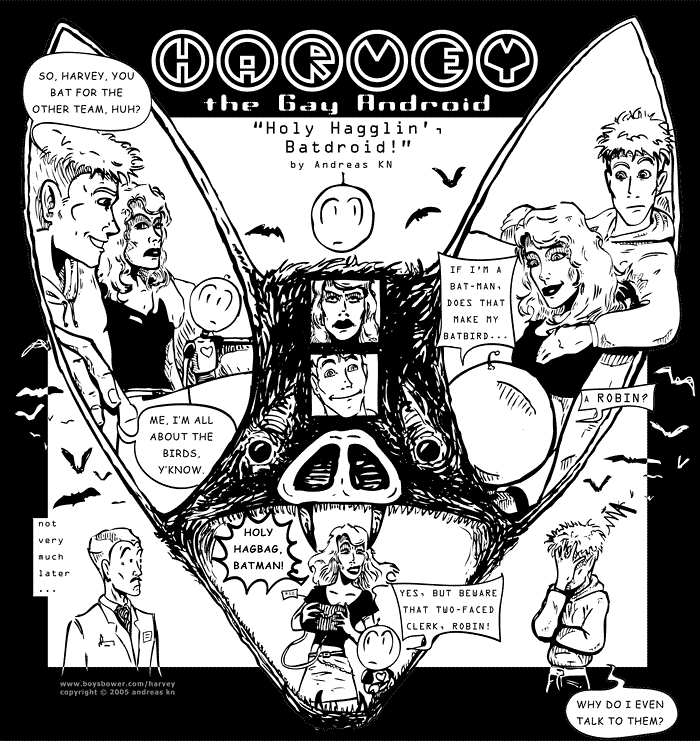 Then I blocked in basic colours (on separate layers) using a hard-edged, variable-sized brush at 100% opacity. The pen I use is a Wacom Volito.


That's the PS Cloud effect you see in the background.

Blocked shadows and highlights:



Using a fixed-width, hard-edged brush at 25% opacity, I smoothed the shading and added some additional shadows and highlights. Using the Batposter above as colour reference, I added clouds to the background and then finished off by adding a sepia Photo Filter layer.





Comments? Question?