uno: name/age/location - Nikki, 15, Sharon, Massachusetts.

dos: type of music you let occupy your brain - Mmm, stuff like Pink Floyd, Led Zeppelin, and The Beatles..

tres: what is the meaning behind your username - Oh gosh, I hate creating usernames. It takes me forever. So I took an object out of the things I liked [in my info] and it happened to be empty notebooks :).

cuatro: list five random things about you that you think we should know - 1. I work at Subway, yay.
2. I am really friendly and outgoing. But you will never know when I'm upset.
3. I am underweight and can't gain any. Kind of rocks cause I can pig out 24/7. But then I have days when I think I'm ugly because I'm too skinny.
4. I have a puppy. His name is Philly. He is 14 pounds and he has hair. Not fur. Hair. So it grows long! And when he poops, his butt hair gets dirty. 5..
5. I can't wait to go back to school shopping. I love it <3. I love the new pens and notebooks.

cinco: write a few sentences about you and your life - Hmm, I was born in a teeny tiny country named Estonia. Not many people have heard of it over here. It's on the west side of Russia :). So I speak Russian and Estonian. But I forgot most of Estonian. Well, I moved to the US when I was 10. I would never go back cause the people over there suck. Everyone is really mean and judgmental. Also, the government doesn't give a crap about the people. So the cities are all crap.

siete: post a banner in your userinfo. we check it ya know. - It's in there :D.

ocho: talk about the maintainers.
#
volonte: :o! my layout is made by you!! Wow :). Awesome. I like it a lot.
#
____heartarcade: Oh, I adore your hair. And you have gorgeous eyes.
#
__dressingroom: Heh, I like your grass. It's real >.<. Most people have fake grass and it's all bright green and ugly :).
#
chelsearar: I'm 5'6 too :). I wish I was in college :(. And away from my parents. I still have three years of highschool left >.<.

nueve: Post pictures of your room, your significant other, and 5+ of yourself.
It's not a big deal if you don't have pictures of your room or boyfriend/girlfriend. But, you must have pictures of yourself

MY ROOM:
Sorry, no photos of my room.

MY BOYFRIEND/GIRLFRIEND:



MEEE: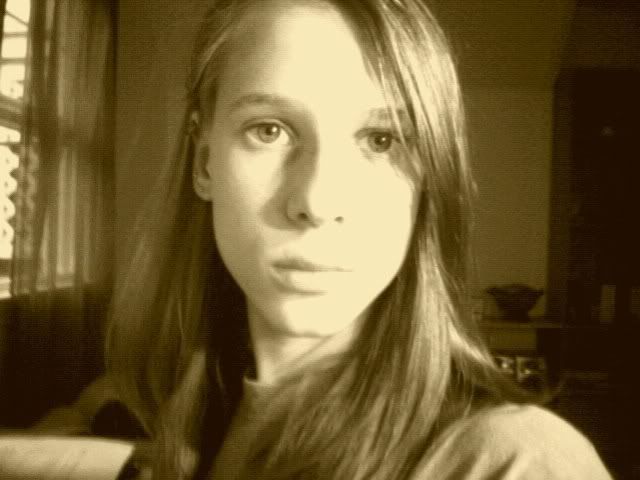 Most communities hate that one :P.



I'm actually wearing eyeliner! And I straightened my hair in that one. It doesn't happen often.




POST MORE! :]


And lastly, did you catch the mistake in this application? Look really closely. Let's see how sharp you are. There is no number six [seis].