So on Monday, I saw the Secret Machines, my favorite band, at the Roseland in NYC with my friends & their dad. They were an opening act for the Kings of Leon. I was about four feet from the front of the stage & I had the time of my life. Then on Wednesday, my best friend and his dad and I saw them again... 4.5 hours away in a town near Baltimore, MD. We went this far because they were an opening act, the Kings of Leon weren't performing that night. Let me tell you, going 4.5 hours to see them was totally worth it. These are the pictures from the second concert, because I was on the railing & got totally awesome pictures.

this is the love of my life.
Ben, the guitarist for the Secret Machines.
he gets the prize for sexiest man alive.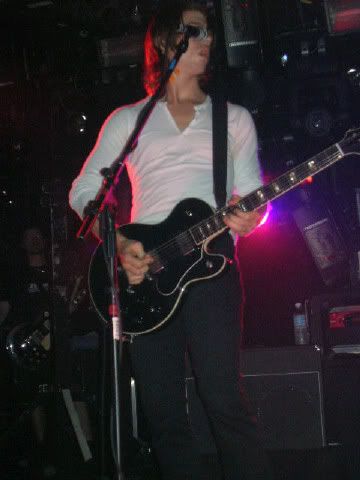 driving down there took 4.5 hours, with Sammy at the wheel for about half of it.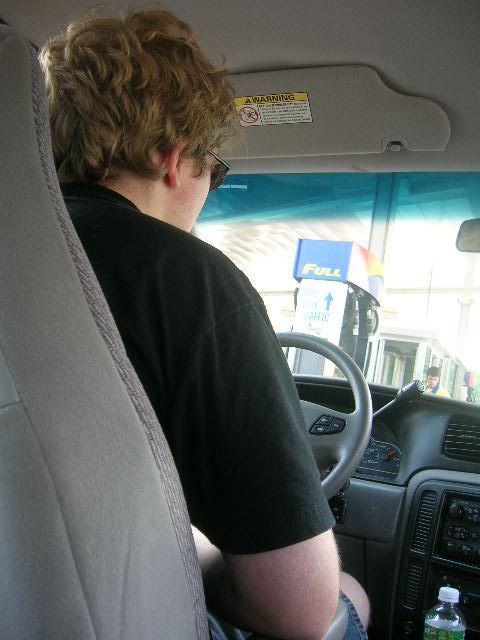 so we got there at about 530, with an hour and a half before the doors opened. We ate at this very cute Chinese restaurant & then stood on the line. Oh wait - except for the kid who was leaning against the doors reading some book, we were the line that people had to get behind. That's right - we live 4.5 hours away but were still able to get in the front row. So I was right on the railing, which guarantees good pictures.

the theatre. I thought this was really cool.



the ticket that got me in. & yes, like it says on the ticket, I had to pay 3$ to get in just because I am under 21 & they can't make alcohol money off of me.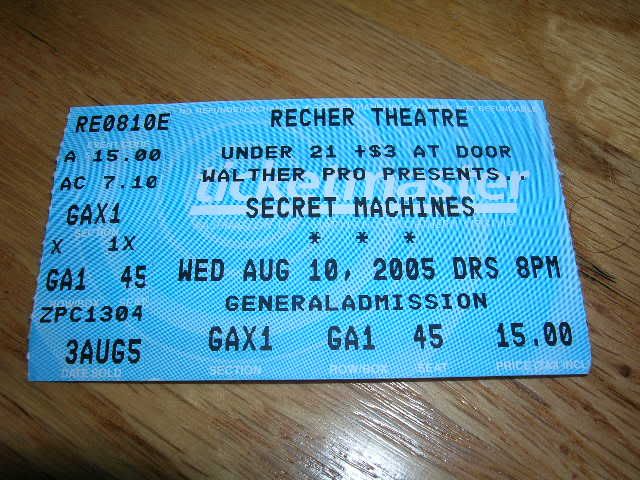 the opening band's drum set. I was just shooting off my camera to make sure that I would be getting a good shot of Ben, since he's be standing right where tht drum set is.



They opened with "Nowhere Again" both nights - my favorite song.
let me introduce you to the Secret Machines.
Ben is front & center. He plays the guitar & sings background stuff.



Josh is his cousin & he plays the drums. You can't tell here, but he has a lot of hair. When you're looking at the stage, he's set up to the left.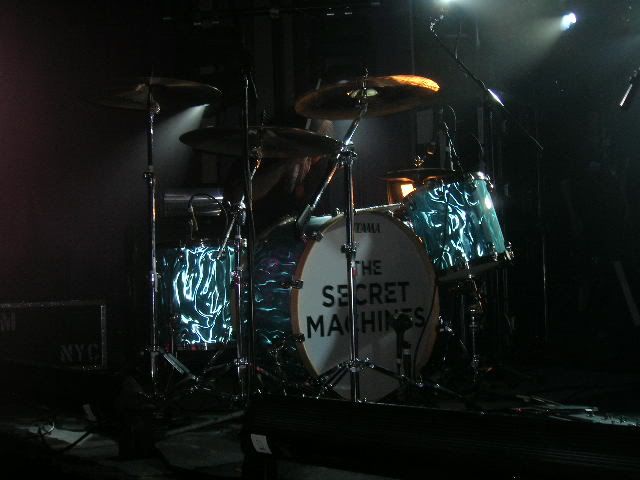 this is a bad picture of Brandon, who is Ben's brother. He is the lead singer & plays the piano and bass. He's to my right.



here he is playing bass. over the course of the night I would fall in love with his arm.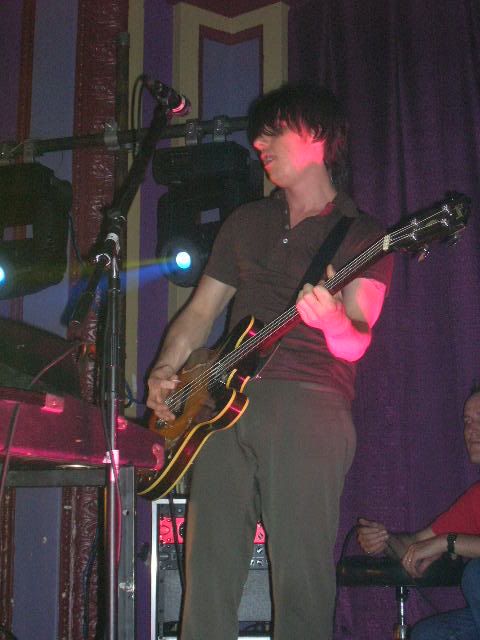 Ben doing three things he is amazing at - playing guitar, singing & being hot.



Brandon playing... I forget which song.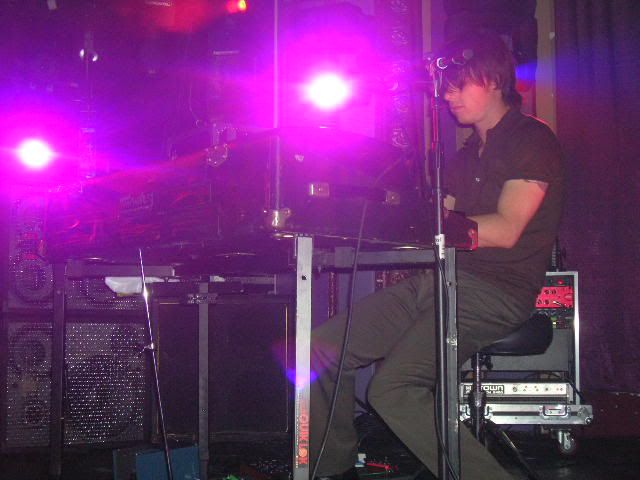 one of my favorite shots the entire night. This was also one of the few times I really had to use my zoom.



as the night went on, his hair got more in his face. I like. A lot.



Brandon, playing a different bass. In the background is the roadie who hands him his instruments.



I told Sammy I would get a crotch shot & I meant it. Guess who this is.



um... excuse the Ben overload?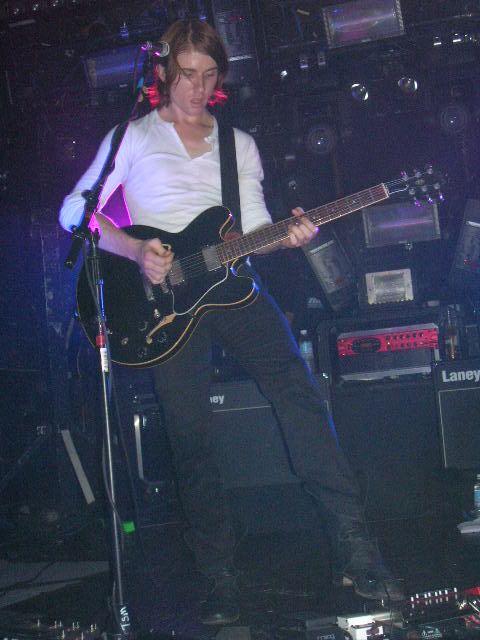 I love how the lights came out in this picture.



another one of my favorite shots.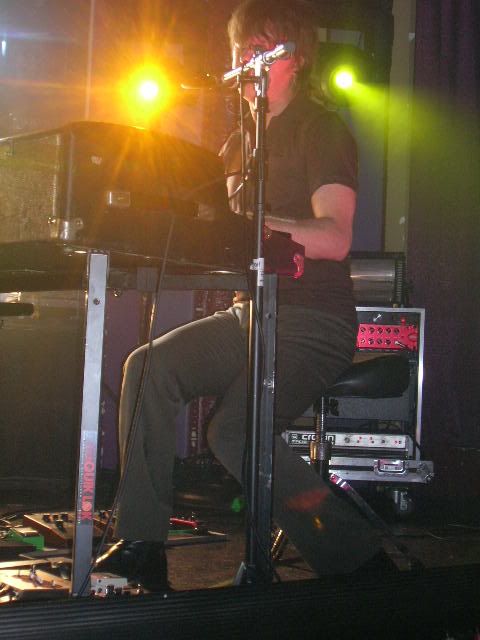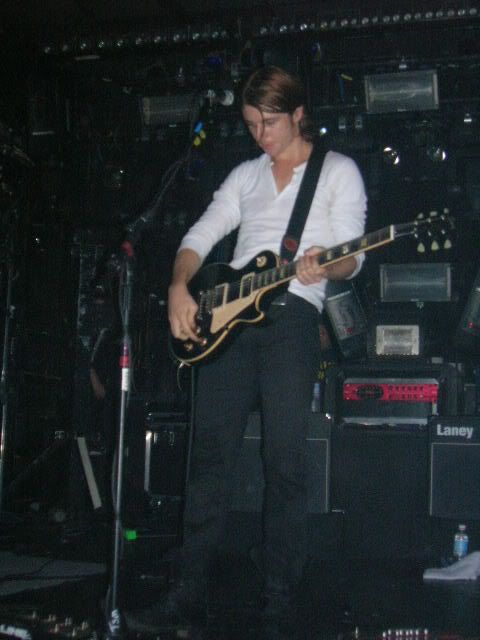 so I finally took a pic of Josh & his drums but he's sort of hard to see. Nevertheless, I really love the drum set.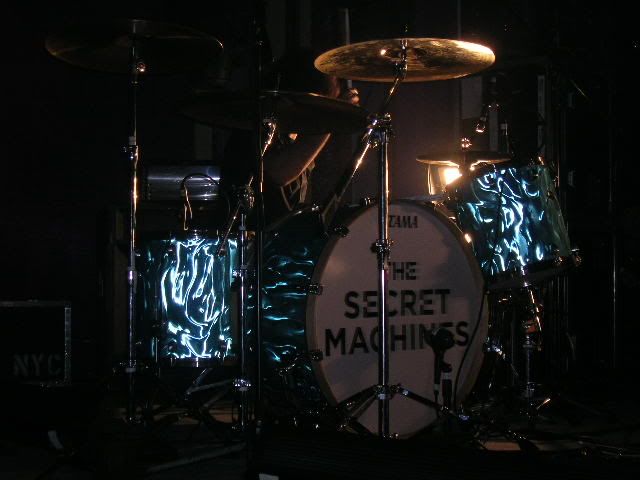 I think from here on was taken during "First Wave Intact" - my second favorite song & their closer both nights.
mmm Ben. you're so hot.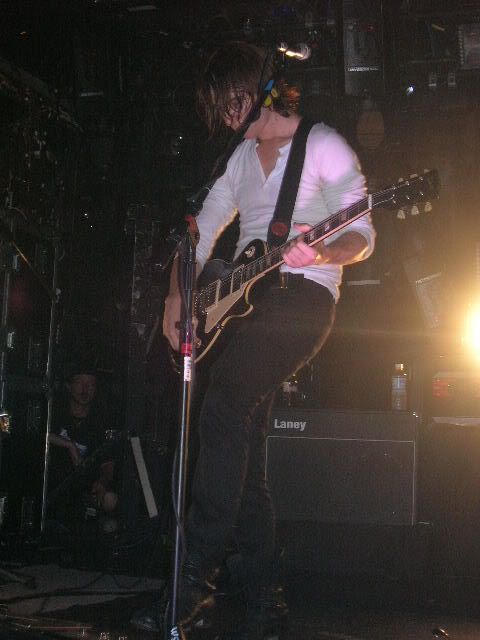 using super zoom.



sitting down to play bass.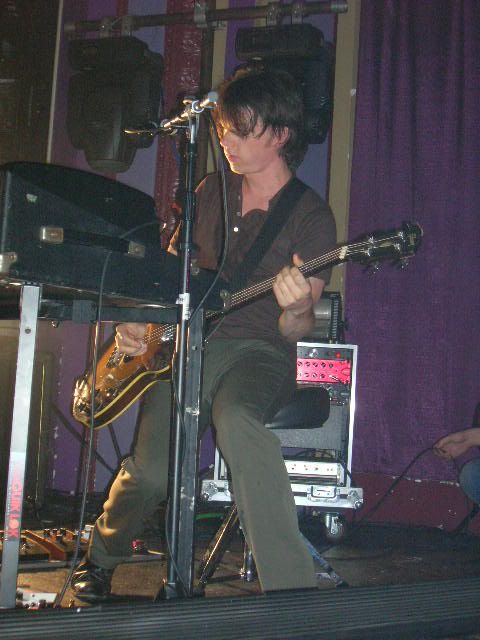 singing "first wave down"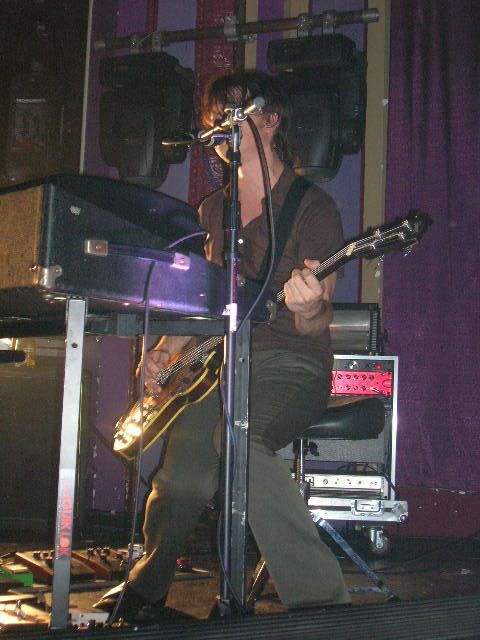 "I am a sexy rock star & I know it"



did I mention that he wore the same shirt in both concerts?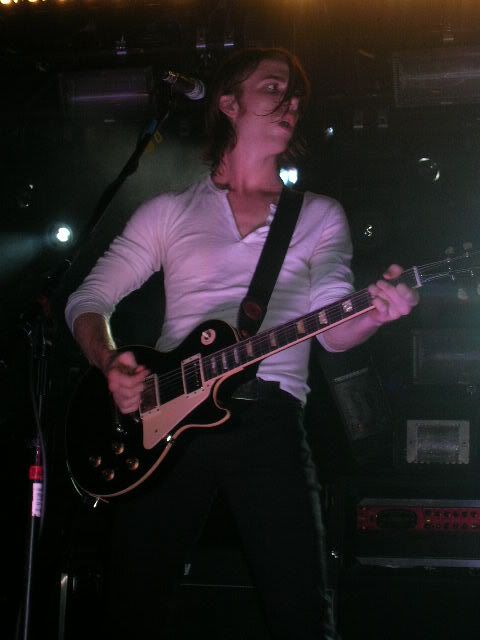 tried to get Ben & Josh - sort of worked out.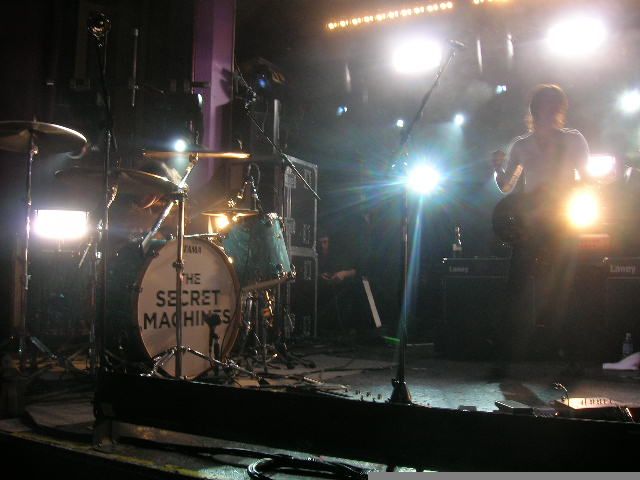 when I used zoom, I got more of Josh and less of drums. sort of.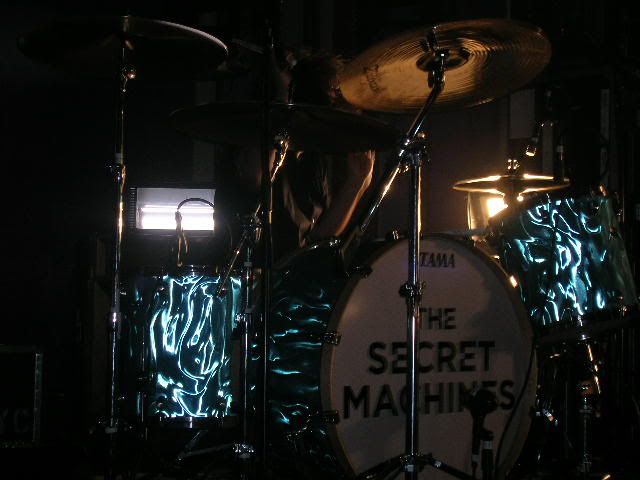 this is my favorite shot out of all of them, even my favorites.
*please note the bottle of Corona on the speaker (that was Ben's). & note the roadie who is hiding beneath the equiptment.*



after freaking out & removing the guitar.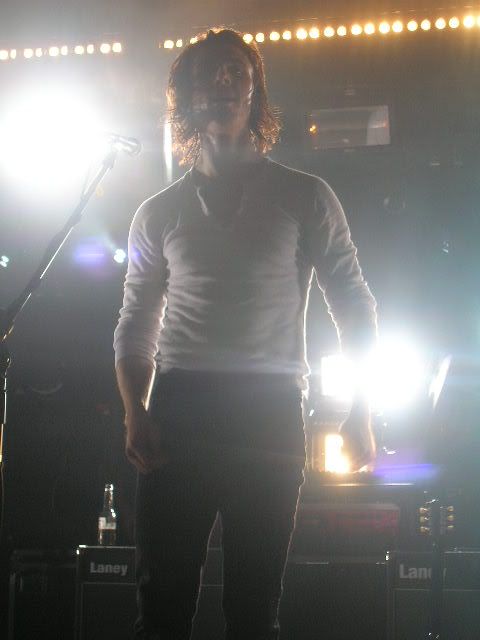 the Secret Machines have left the building.



so at the end, I got Ben's set list (picture of that to come later). We ran around the back of the building to check out their tour bus, but there was no sign of the Secret Machines anywhere. I really hope they swing by around here again relatively soon so I can see them. They're a great band & they put on a good show - I strongly recommend them & urge you to check them out. Trust me on this one. I can honestly say that there isn't one song on any of their albums/eps that disappoints me - they're all AMAZING.