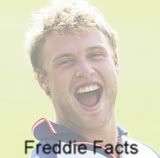 Andrew Flintoff (born December 6, 1977, Preston, Lancashire) is an English cricketer and one of the BEST all-round cricketer in the world. He plays county cricket for Lancashire, where he picked up the nickname "Freddie" due to perceived similarities with Fred Flintstone. He is 6'4" tall.

In the Second Test against Australia at Edgbaston in 2005, he broke Ian Botham's 1981 record of six sixes in an Ashes Test Match with five in the first innings, and a further four in the second innings despite an injury early in the second innings.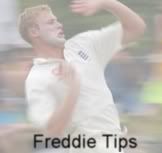 Fred's Fast Bowling Pointers
Here are 5 important tips from Fred about the art of Fast Bowling:

1. Try to develop a comfortable & rhythmic run up . A longer run up does not mean that you are going to bowlany quicker.
2. Accelerate through your run up so you explode into the crease and your follow through.
3. You will gain more control by having a steady wrist behind the ball, this is an important element to fast bowling, it is difficult to learn but the more you practise the easier it will become.
4. Bowl at 90% of your normal pace for the majority of your spell and save the extra 10% for the big effort bowls i.e. Yorkers and Bouncers. This will help you to bowl longer spells and with more accuracy.
5. Develop variations to your bowling so you can become a bowler a captain can call upon in all conditions.




Q. Freddie, Will your book only be on sale in the UK?

A. For the moment I think yes it will only be sold in the UK, but then if there is a demand it might be sent overseas...

Q. What nicknames have the England team got?

A. Most of the team have a nickname based on their surnames. However Marcus Trescothick is called Bangers (he likes sausages) and Michael Vaughan is sometimes know as Virgil (a character from Thunder Birds.)

Q. Were you suprised when Graham Thorpe announced his retirment so early in the Ashes Series, eefectively runling himself out completely?

A. I supposed you are initially suprised whenever someone says that they are retiring, but at the end of the day Graham will have thought about the situation a lot before he came out and told the selectors.

Q. Who was your hero while you were growing up?

A. My hero was Neil Fairbrother - lucky for me I was able to play on the same team (Lancashire) together.

Q. What is your most memorable performance for England and why?

A. It must be when we were playing against the West Indies at Edgbaston in the second Test and on the second day I hit the ball for six and my dad caught the ball and fumbled it! I went on to get 169.