Sarah and I, your wonderful Queens, have decided that today, August 7th, is National Andrew Flintoff Day.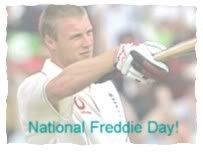 It's actually probably best if we do not explain why. You should just go ahead and enjoy the day, it will boast such treats as: random Freddie facts, pictures of the 'i-wouldn't-say-no'-man himself, Q&A with Freddie (this may not be entirely factual, as Freddie is a busy man and cannot answer all of our questions, even if we ARE US) aaaaaand, last but not least:


Our very own: FREDDIE CALENDER!